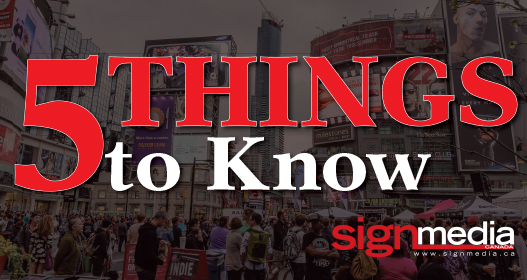 Here's your weekly roundup of news from the sign industry:
1. A light-emitting diode (LED) panel that was recently installed on the façade of the Burj Khalifa in Dubai, U.A.E., the world's tallest skyscraper, has become the world's highest live scoreboard for the 2018 Fédération Internationale de Football Association (FIFA) World Cup.
2. Solvent-based inkjet printing has maintained its relevancy to the sign and graphics in industry with recent breakthroughs in productivity, including a dramatic reduction of wait times for curing.
3. The Mirage At Metropolis was a 360-degree, immersive AV experience at British Columbia's largest mall, combining colourful, animated digital projection-mapped content with a mirrored floor and ceiling to create the illusion of infinity.
4. For colour management to help sign companies better control image reproduction for wide-format inkjet printers, one of the most important first steps is to calibrate  (i.e. profile or characterize) their computer monitors. 
5. American Renolit, which produces plastic films for wide-format graphics and other applications, is extending the capacity of its plant in La Porte, Indiana, with the installation of a new calender line that will support phthalate-free manufacturing.