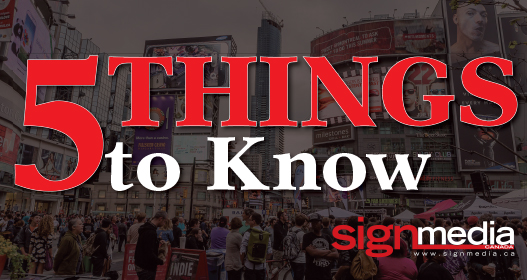 Here's your quick afternoon update on news in the sign industry:
1. Hamilton Scenic Specialty of Dundas, Ont., has designed, constructed and installed a new illuminated sign in the forecourt of Hamilton City Hall, comprising letters large enough for people to stand inside them.
2. Commercial property manager Cadillac Fairview (CF) and out-of-home (OOH) advertising firm Branded Cities have rolled out new digital signage assets at two shopping malls, Ottawa's Rideau Centre and Calgary's Chinook Centre.
3. Restaurant chain White Spot has launched 'BC's Own,' its biggest marketing campaign to date, with a mix of eye-catching billboards, transit shelter posters and other media across British Columbia.
4. Women working in the printing industry are well-educated, responsible for high-level decisions, experienced and loyal to their businesses, according to the Specialty Graphic Imaging Association's (SGIA's) first Women in Print Survey.
5. Ontario's Workplace Safety & Insurance Board (WSIB) wrapped a Toronto Transit Commission (TTC) streetcar in mostly black graphics for the recent National Day of Mourning, as a tribute to people who have died, been injured or suffered illness at work.