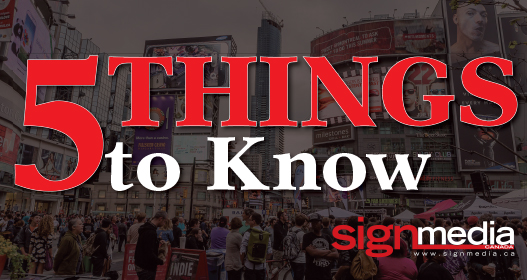 Here's your quick morning update on news in the sign industry:
1. World Wildlife Fund (WWF) Canada is celebrating biodiversity with a five-part outdoor art installation by Edina Tokodi, founder of the Mosstika creative studio, which runs until Oct. 31 at Montreal's Rutherford Park.
2. Approximately 96 per cent of Canadian consumers notice out-of-home (OOH) advertising and 78 per cent pay attention to it, according to the OOH Marketing Association of Canada's (OMAC's) 2017 BrandSpark Shopper Study.
3. National Technology Associates (NTA) has installed a 3.8 x 6-m (12.5 x 20-ft) NanoLumens video wall for the main lobby of the new global Ultimate Fighting Championship (UFC) corporate campus in Las Vegas, Nev.
4. Kwik Signs, a commercial sign shop in Port Perry, Ont., has installed an HP Latex 1500 printer to help accelerate its output, increase productivity and keep up with high demand for large-format graphics.
5. Digital OOH (DOOH) advertising firm Pattison Onestop has added seven new buildings ion Calgary and Edmonton to its digital office network, bringing its total Alberta inventory up to 65 buildings.