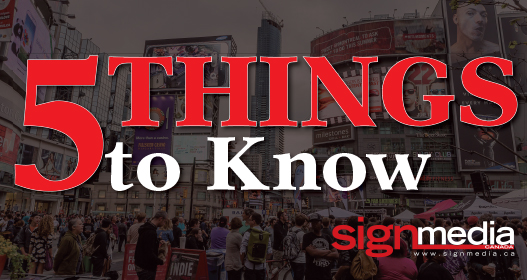 Here's your quick morning update on news in the sign industry:
1. As Montreal pays tribute this month to Leonard Cohen, marking one year since the singer's death, Aéroports de Montreal (ADM) has updated the main identification sign for Pierre Elliott Trudeau International Airport with a larger-than-life version of Cohen's iconic fedora.
2. ADM has also partnered with the Bureau du Taxi de Montreal (BTM) and Tourisme Montreal to introduce 365 new taxis wrapped with special 'Bonjour' logo graphics to welcome visitors at the airport.
3. Environmental graphic design (EGD) firm Entro recently developed and implemented a new donor recognition program for Toronto's Humber College, combining static and interactive digital signage.
4. The out-of-home (OOH) advertising firms that comprise the OOH Marketing Association of Canada (OMAC) provided space worth more than $24 million in 2016 to more than 120 non-profit organizations and charities.
5. Calgary-based Westwind Design Group has evolved into a full-service EGD firm, producing everything from retail spaces to wayfinding signage and custom furniture, often using digital printing to add pizzazz to the final product.