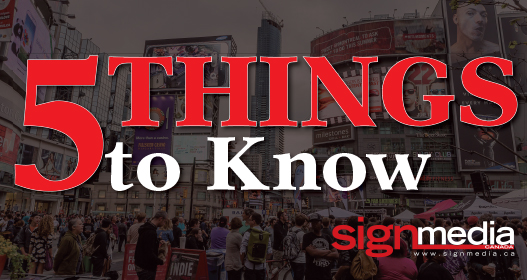 Here's your quick morning update on news in the sign industry:
1. On New Year's Eve, Ottawa's National Arts Centre (NAC) unveiled the Kipnes Lantern, a three-storey glass tower showcasing what is reportedly the largest transparent light-emitting diode (LED) screen in North America.
2. Following two years of review and rewriting, the city of Kelowna, B.C., has released a new draft of its sign bylaw, which calls for a reduction in size for free-standing signs and a ban on electronic signs except for specific purposes.
3. Shore Land Artists recently created an approximately 2.1 x 15.2-m (7 x 50-ft) bright pink Toronto sign from driftwood to launch the city's Waterfront business improvement association's (BIA's) winter arts program.
4. Shipments of flexible displays, including those for digital signage applications, will increase from nearly 170 million units in 2017 to nearly 643 million units by 2022, according to a report from market research firm Tractica.
5. Big Digital, a Toronto-based audiovisual (AV) equipment rental company that caters to out-of-home (OOH) and 'experiential' advertising campaigns, provided a series of digital touchpoints for the first-ever Liquor Control Board of Ontario's (LCBO) pop-up shop.