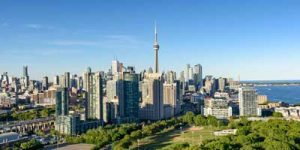 A $4.2 million marketing campaign—targeting social media, digital, television and out-of-home advertising—has been launched in Toronto to encourage locals and visitors from regional drive markets in Ontario and Quebec to try experiences throughout the city using #NeverHaveIEverTO.
Never Have I Ever, TO—crafted by Destination Toronto, is in close collaboration with the City of Toronto, BIAs, and businesses across all sectors of the tourism and hospitality industry. This collective show of support comes at a time when Toronto's tourism and hospitality industry continues its critically-needed reopening and recovery, said a city statement via CNW.
Running from August 17 to October 30, the recovery-focused campaign promotes many of the businesses and experiences hardest hit from the global pandemic including hotels, attractions, tours and the city's culinary scene. As more restrictions are lifted and reopenings take place, other hardest hit sectors will be added alongside the campaign's evolution.
"Never Have I Ever, TO is part of a citywide conversation to get Toronto back on its feet by encouraging all of us to take a fresh look at our own city and explore Toronto's unique experiences," said Scott Beck, President & CEO, Destination Toronto. "There is no full economic recovery until travel returns, and that recovery starts with us. It's time for locals and visitors from nearby cities to take in the experiences we may have walked by time and time again, or to rediscover the experiences we've missed since the start of the pandemic."
The campaign also includes My Toronto Pass—a new mobile-exclusive passport featuring offers on attractions, tours, experiences and more for locals and visitors, alike. 
Mayor John Tory found his own Never Have I Ever moment at the top of the city at the CN Tower's EdgeWalk, and shared the video of that experience on Monday August 17.
ALSO READ: 
https://www.signmedia.ca/who-will-grab-6-3-million-contract-to-rename-dundas-in-toronto/
https://www.signmedia.ca/yonge-dundas-square-offering-use-of-five-screens-for-free/