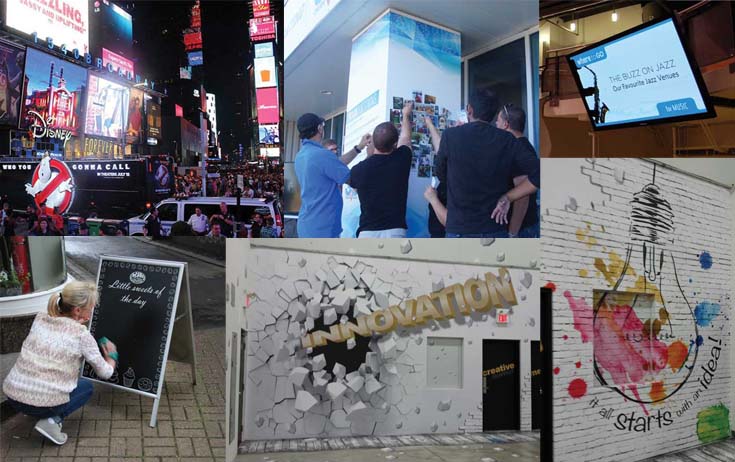 Compiled by Peter Saunders
The sign industry is showing patterns of growth that should continue throughout the year to come, according to the International Sign Association's (ISA's) latest economic reports. Compiled by market research firms IHS and Vandiver and Associates and sponsored by the National Association of Sign Supply Distributors (NASSD), the reports assess a range of industry segments, including wide-format printed graphics, electric signs, digital signage and architectural signs, all of which are expected to show growth well above historic patterns through 2017 and even into 2018.
Such predictions of continued success are credited to a relatively stable outlook for the global economy and, more specifically, the North American market—but they also have much 
to do with the rising importance of signage within the economy and with the rapid technological developments that have revolutionized how signs are produced.
"Even after more than a decade of growth, the sign and graphics industry continues to outperform the national economies of Canada and the U.S.," says Catherine Monson, president and CEO of FastSigns International, a signmaking franchise system. "This is due in part to customers having a better understanding of the role visual graphics can have in helping them sell, inform and direct. It is also because of the development of new products, technologies and applications."
Illumination
As per ISA's economic reports, electric signs remain above-trend. On the supply side, for instance, total revenue for hardware and services was expected to increase by 12.4 per cent for 2016 over 2015.
Light-emitting diodes (LEDs') dominance of the illumination market for such signage continues apace. The value of chip-on-board (COB) LEDs used to illuminate all types of signs and professional displays, by way of example, is forecast to grow by 71.3 per cent annually through 2020, according to the latest market study by ElectroniCast Consultants.
Overall, the report found the worldwide 
value of all types of LEDs for signs and displays reached nearly $2.3 billion U.S. in 2015 and will increase each year by an average of 9.5 
per cent to top $3.6 billion U.S. in 2020. The trend will vary significantly, however, for different LED package types.
Compared to what ElectroniCast describes as 'explosive' growth for COB and multiple-COB (MCOB) LEDs, for example, the consumption value of dual in-line package (DIP) LEDs is forecast to increase by 13.3 per cent each year, while that of surface mount diode (SMD) LEDs will experience negative growth.
In other words, the sheer number of LEDs being installed in channel letters, lightboxes, sign panels and other applications continues to grow, but the particular types of LEDs being specified for such projects are changing.
Wide-format printing
The North American wide-format inkjet printing market, which was valued at more than $20.3 billion U.S. in 2014, is expected to grow to $24.4 billion in 2018, according to another recent study, conducted by International Data Corporation (IDC).
The market research, analysis and advisory firm interviewed printer manufacturers, distributors, industry experts, print service providers (PSPs), marketers and retailers on behalf of the Print Industries Market Information and Research Organization (PRIMIR). Buyers cited banners, posters and signs as the top three applications. PSPs, for their part, also mentioned photography and presentation graphics. With the commoditization of these and other mainstream products like billboards, however, the PSPs were focusing on new, more profitable applications.
With this in mind, the PRIMIR report—
titled Wide Format Inkjet Printing Trends and Opportunities—suggests IDC's forecast for future growth will be contingent on both (a) the further conversion of traditional analogue printing methods for display graphics into digital processes and (b) the development of new applications based on innovative combinations of inks and media.
IDC's research shows ultraviolet-curing 
(UV-curing), durable aqueous 'latex' and dye sublimation printers are all benefiting from the shift—at the expense of older devices, such as lower-end aqueous inkjet printers—as PSPs seek (a) the ability to print graphics at faster speeds and (b) new markets for their services.
"The growth of these alternative ink technologies in the graphics business has made up for declines in more mature methods," says Tim Greene, an IDC research director.
One trend that has played directly into the strengths of digital wide-format printing is 'versioning,' whereby display graphics produced for the same client do not all feature the same message or image. Versioning has enabled more highly targeted marketing even while the overall number of printed graphics rises.
In addition, as they face competition from digital signage and mobile marketing, more than 40 per cent of print buyers have added Quick Response (QR) codes or other 'interactive' elements to their display graphics and the majority plan to continue to do so.
Research compiled for ISA by InfoTrends predicts wide-format print volumes across North America will continue to rise at a compound annual growth rate (CAGR) of 14 per cent through to 2019, driven by the ability to place inks on an ever-broader range of substrates. In this respect, both UV-curing and latex printers are overtaking market space once dominated by traditional aqueous and solvent inkjet systems, which are not compatible with as many different types of materials.
Further, the number of printing companies that operate within the sign and graphics community and classify themselves as 'entirely digital' continues to grow. A 2016 Specialty Graphic Imaging Association (SGIA) survey found 55.6 per cent of respondents describing their businesses as fully digital, compared to 41.5 per cent in 2015. Overall, digital printing was used by 98.9 per cent of printing companies in the sign and graphics sector, followed by screenprinting at 36 per cent and lithographic/offset printing at 20 per cent.
SGIA also asked businesses about the new purchases they had made over the previous year. The most common were not printers, 
but instead related software and pre-press production tools. Among new printer purchases, meanwhile, latex roll-to-roll (RTR) inkjet systems smaller than 2.4 m (8 ft) topped the list, followed by UV-curing RTR printers larger than 2.4 m.
On the side of the industry serving these companies, the global market will be worth more than $8.4 billion U.S. by 2022, according to recent reports from Research and Markets and MarketsandMarkets. Both predict a CAGR of three per cent for large-format printing hardware and 4.4 per cent for after-sales services between 2016 and 2022. In terms of volume, they forecast approximately 398,300 units will be shipped to sign shops and other printing companies during that period. They cite increased demand for out-of-home (OOH) advertising, printed interior décor and textile graphics, with UV-curing printers leading 
the pace of adoption due to their ability to produce durable graphics on both flexible and rigid substrates.
One growing concern for sign shops, however, is how wide-format printing is becoming an important profit centre not only for them, but also for small commercial printing companies. Already, signage accounts for an average of 9.8 per cent of these companies' total sales, according to the National Print Owners Association's (NPOA's) 2015-2016 Signs & Wide-format Pricing Study.