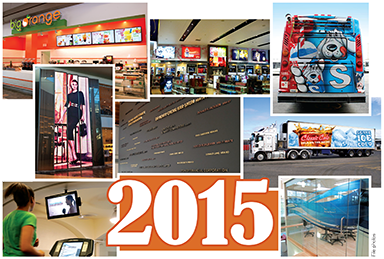 Compiled by Peter Saunders
Sign Media Canada takes a look at the sign industry and what the future has in store.
It has been several years now since the Canadian sign and billboard industry suffered the negative impacts of a global recession—and market dynamics have certainly changed for the better. In 2009, many advertisers tightened their spending amid falling corporate profits. Prior to a decline in domestic demand, reduced demand from the U.S. caused the Canadian sign industry to suffer. Market research firm IBISWorld reports export revenues fell at an average rate of 4.4 per cent over the past five years.
Today, however, sales are recovering, with IBISWorld estimating a revenue growth rate of 1.3 per cent in 2014 and continued improvement as sign customers increase their dedicated budgets for advertising and corporate rebranding. In particular, the firm suggests they will source more digital signage, continuing a trend that began in the early 2000s, so sign companies that are prepared to offer and incorporate video displays into their projects are expected to lead the industry's recovery.
That said, the 'bread and butter' 
of the sign industry remains wide-
format printing.
Wide-format printing
Looking back, the digital wide-format printing sector has grown rapidly, with a proliferation of manufacturers reaching a high level of business maturity in less than 20 years. Today, however, consolidation is shrinking their numbers, new startups are very rare and digital signage could pose a market threat.
Major companies with diverse interests in the printing industry, such as HP and Agfa, entered the wide-format graphics market years ago. Other companies, including Inca Digital and Mimaki, established themselves primarily within the wide-format segment.
Screenprinting, which for many years was the predominant technology for producing display graphics, has continued to lose ground. The effects of the 2008 economic downturn were particularly strong in the screenprinting market, as many sign and print shops stopped investing in older equipment.
While screenprinting is now confined to a role as 'legacy' technology, however, Smithers Pira—a print-industry testing, consulting and information services business—argues it will retain an important position for several decades yet, as it can still lay down very heavy ink coverage more cheaply than digital inkjet printers. The gradual decline will continue, the company predicts, but with a 'long tail.'
Worldwide, Smithers Pira forecasts screenprinting's share of wide-format machinery will fall from its previously recorded 30 per cent in 2011 to 22 per cent by 2017. The replacement of screenprinters has been most significant in regions with environmental sustainability initiatives, where companies are quicker to adopt ultraviolet-curing (UV-curing) and durable aqueous 'latex' inkjet printers.
Other factors influencing the shift to digital printing include reduced setup requirements, more cost-effective short-run workflows, rapid response time and consistent output for repeat orders. In addition, wide-format digital printing has seen reliability and productivity increase and costs decrease. Perhaps most importantly, a growing number of applications have become feasible for digital printers to output (see page 32).
Digital signage, meanwhile, has long been considered a potential threat to printing, but without taking away significant market share. The emergence of flexible screens, however, may be better-suited to many signage applications. Roll-to-roll manufacturing could conceivably create low-weight digital displays that are cost-competitive with wide-format printed graphics.
In the meantime, the worldwide large-format printer market continues to find new opportunities for growth, according to studies by International Data Corporation (IDC), even 
if shipments to sign shops have become relatively flat. In early 2014, IDC reported overall shipments of large-format printers around the world had increased by 4.1 per cent in the fourth quarter (Q4) of 2013, compared to the same quarter in 2012, reaching approximately 82,000 units. Mature markets saw 3.6 per cent growth year-over-year, while emerging markets saw a 4.8 per cent increase.