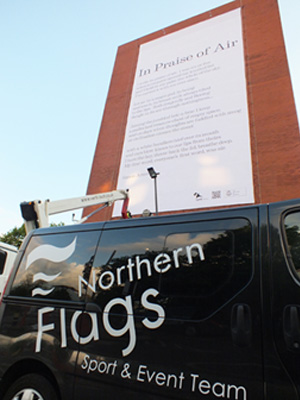 By Peter Saunders
Earlier this year, Northern Flags—a European supplier of fabric-based point-of-purchase (POP) displays, banners and flags—completed the printing, treatment and installation of a 20 x 10-m (65.6 x 32.8-ft) banner that reportedly purifies the air surrounding it.
The banner was the culmination of 15 months' development work with England's University of Sheffield, where it was unveiled on an outer, road-facing wall of the Alfred Denny Building. It was printed using dye sublimation techniques on a specially selected fabric with a surface that allows the absorption of detrimental catalytic chemicals. Specifically, the banner contains microscopic particles of titanium dioxide that react when they come in contact under sunlight with airborne nitrogen oxide pollutants within the atmosphere, 'eating' them to purify the air.
The pioneering catalytic technology—particularly suitable for Sheffield, which exceeds safe limits for nitric oxide—was developed by the university's pro-vice chancellor for the faculty of science, Tony Ryan, and the banner displayed a poem titled 'In Praise of Air' by Simon Armitage, a bestselling author and the university's professor of poetry. It can reportedly absorb 20 cars' worth of pollution every day.
"This now gives us the opportunity to work with our clients to roll out the treatment on their outdoor marketing banners," says Iain Clasper, managing director of Northern Flags, which operates production lines in France, Holland, Poland and Thailand. "It's a great innovation that will allow clients to clean the air around buildings."
The university reports the technology could be applied to clothing, too.