Wayfinding: The growth of accessibility signage in Canada
26 March 2015
By Mike Santos
While there has been relatively little action taken in Canada in recent years with regard to disability codes affecting signage at either the federal or provincial levels, a specialized industry has nonetheless emerged, with sign fabricators developing best practices based on both Canadian standards and the Americans With Disabilities Act (ADA) from the U.S., which affects room identification (ID) and wayfinding signage.
AODA
In Ontario, the Accessibility for Ontarians with Disabilities Act (AODA) was passed in 2005 to address the need to remove barriers for the disabled in built environments. Under AODA, a formal sign standard was proposed in 2010 and adopted in June 2011, with the goal of making the province fully accessible by 2025. This standard is a simplified version of sections of the International Building Code (IBC). Many sign companies in Canada have used IDC and ADA to address other areas, including contrast levels and tactile letter standards.
AODA requires sans serif fonts, combined upper and lower case letters, tonal contrast of at least 70 per cent, Grade 1 braille (compared to Grade 2 braille in the U.S. under ADA) and matte or glare-free surfaces.
As a code designed to serve more than one-third of the population of Canada, AODA obviously wields enormous influence, which can spill into other provinces that do not have their own codes. Some sign companies, like King Architectural Products in Bolton, Ont., have not only grown to meet AODA's provincial demands, but have also pushed parts of the code forward—along with principles of ADA—as best practices for wayfinding systems in other provinces.
This process is similar to examples seen in the U.S., where some states developed their own additional guidelines after ADA was adopted, based on more advanced work by the International Code Council (ICC). In fact, as various states gravitated to higher standards, they became common industry practices before ADA was even adopted at the federal level.
Treasury Board and FIP
Outside of direct codes, other guidelines have had a major influence in Canada. The Treasury Board, which is responsible for regulations concerning its fellow federal government agencies, requires tactile signs in all federal government buildings, whether owned or leased. Specifically, the board's manual says tactile signs must be used for washrooms, emergency exits, elevators, stairwells and doors off main corridors.
These requirements were adopted with the Federal Identity Program (FIP) 
in 1997, which was closely developed with a number of related industry associations and disability experts. FIP's specific guidelines for signs were also based on the Canadian Standards Association's (CSA's) CAN/CSA B651-95, Barrier-free Design Standard, for existing buildings.
Sections of CAN/CSA-B651-95 that affect signage include requirements for sans serif characters, Arabic numerals, character width/height ratios between 3:5 and 1:1, stroke width/height ratios between 1:5 and 1:10, zero glare and minimum illumination level of 200 lm/m2 (200 lx). Tactile characters and symbols must be between 16 and 50 mm (0.6 and 2 in.) high.
That standard, distinct from provincial building codes, has since been replaced by CAN/CSA B651-04, Accessible Design for the Built Environment, which applied to new construction and major 're-fit' projects after October 1, 2004. Changes included requirements for elevators' floor designation signage to include: braille designations, not just raised characters; raised designations of a minimum of 0.8 mm (0.031 in.) high, compared to 0.75 mm (0.03 in.); mounting heights of 1.525 m (5 ft) to the baseline of the character; and raised stars provided immediately left of the floor designation at the main entry level. Another change affecting some tactile signage required public telephones to be lowered to 1.2 m (3.9 ft) for use by people in wheelchairs, compared to 
a previous height requirement of 1.37 m (4.5 ft).
FIP guidelines have had an impact beyond government buildings. Elements like multilingual design, the use of Helvetica as a standard font and certain symbols have made their way into best practices elsewhere, to the point of creating a 'Canadian brand.'
Further influence of ADA and IBC
Canada is home or outpost to many multinational corporations that are striving to develop consistent signage standards. Given the close relationship between Canada and the U.S., ADA and IBC have become common resources for Canadian sign designers and fabricators.
Further, sign companies have even successfully marketed ADA-compliant wayfinding sign systems to Canadian hospitals, university campuses and other large-scale facilities, while also meeting local requirements. Other industry growth has come from selling standard-symbol signs, such as exit and restroom signs. Increasingly expansive educational campaigns have helped make accessibility signage a greater priority for new building projects.
Mike Santos is director of sales and marketing for Nova Polymers, which supplies raw materials and equipment for fabricating photopolymer signs. For more information, contact him via e-mail at msantos@novapolymers.com.
 New accessibility standard coming for kiosks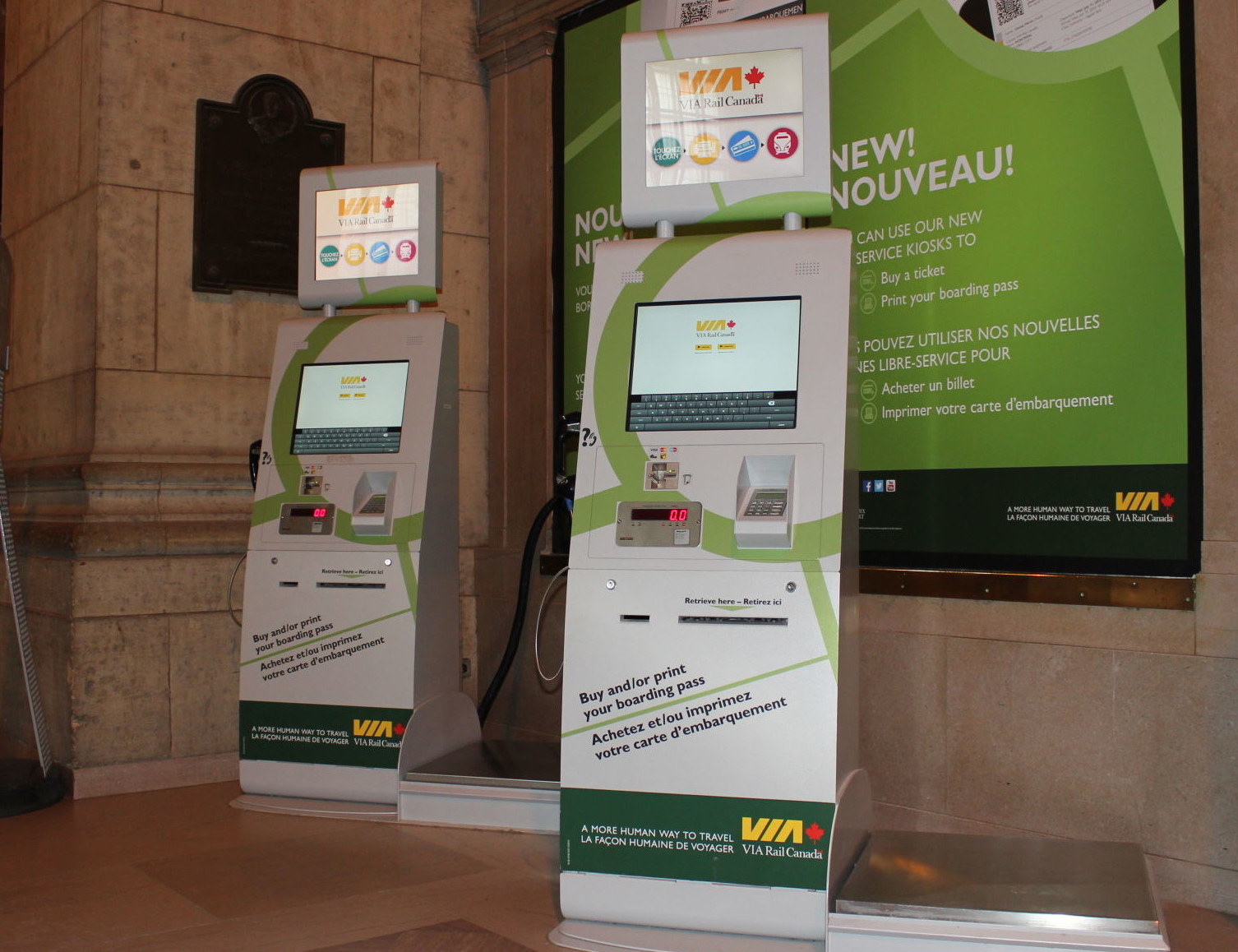 [4]By Peter Saunders
Starting on December 31, 2016, any newly installed automated self-service kiosks—used for such purposes as passenger check-in and the printing of boarding passes and baggage tags—at Canadian air, ferry and train terminals should be accessible to travellers with disabilities, as per the Canadian Transportation Agency's (CTA's) recently amended code of practice, Removing Communication Barriers for Travellers with Disabilities.
This new standard has been developed based on input received through consultations with CTA's accessibility advisory committee, which includes associations representing the interests of people with disabilities, passenger railway companies, ferry operators, major airlines, the Canadian Airports Council (CAC) and air transportation industry stakeholders. It was announced in December 2014, allowing a two-year implementation period to account for any current technical and manufacturing limitations.
The standard has also been harmonized with a U.S. Department of Transportation (DOT) rule that was published in late 2013, so as to provide greater predictability and consistency for travellers across North America. CTA's goal is to ensure at least 
25 per cent of kiosks in Canada are accessible by December 31, 2022.
"Experience has shown our voluntary standards approach is effective in increasing the accessibility of the federal transportation network," says Geoff Hare, chair and CEO of CTA.
The standard applies to:

all airports within Canada's National Airports System (NAS), i.e. those serving capital cities and/or those with 200,000 passengers or more passengers each year.


Canadian carriers that operate aircraft with 30 or more passenger seats.


railway terminals and carriers that serve 10,000 or more passengers each year.


ferry terminals and operators with vessels carrying 1,000 gross tonnes or more between provinces or between Canada and the U.S. each year.
Endnotes:
[Image]: http://www.signmedia.ca/wp-content/uploads/2015/03/brass.3.lowres.jpg
[Image]: http://www.signmedia.ca/wp-content/uploads/2015/03/PPf-10-30-13.jpg
[Image]: http://www.signmedia.ca/wp-content/uploads/2015/03/DSCN1718.jpg
[Image]: http://www.signmedia.ca/wp-content/uploads/2015/03/Via-Rail.jpg
Source URL: https://www.signmedia.ca/wayfinding-the-growth-of-accessibility-signage-in-canada/
---