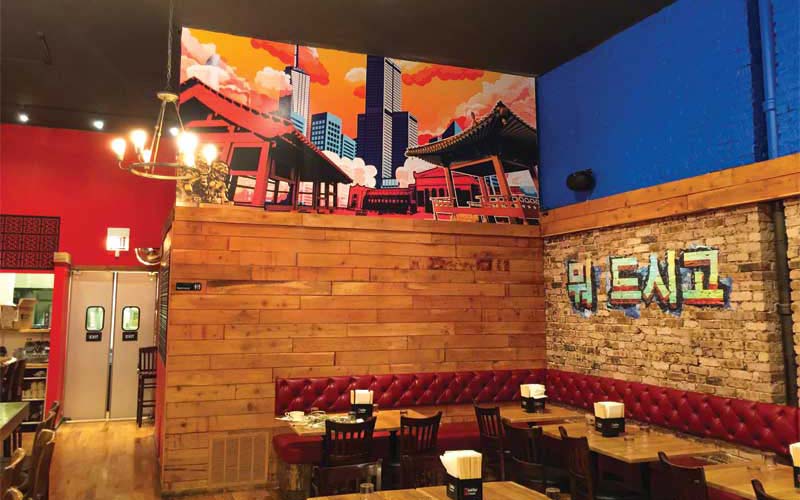 There are many reasons why a company might choose to rebrand. Maybe the target audience has changed, or it is hoping to boost its competitive edge. In any case, this process requires much more than a simple logo change. Successful campaigns visually tell a story, build brand awareness, and help companies stand out. As such, shops, companies, and other businesses often turn to sign shops and print service providers (PSPs) when looking for inspiration as to how to build an updated, branded environment. One way to achieve this goal is to communicate a company's story via compelling and unique wall and window graphics.
Various market research studies have shown the brain is conditioned to respond to visual information. A descriptive, original graphic is able to communicate the meaning and message of a brand to the consumer, while simultaneously enhancing its recognition and reinforcing customer loyalty. Companies that prioritize wall and window graphics as a valuable aspect of their rebranding strategies can quickly communicate what their business represents, as well as tell a story about its origins and future—all while building an experience that impacts the customer's perception of the store and their purchasing decisions.
Developing effective graphics
To create effective and unique wall and window graphics, PSPs should establish a close working relationship with a graphics material manufacturer, as well as familiarize themselves with what is involved in designing, printing, and installing adhesive graphics.
It is important PSPs communicate with brand managers to ensure the design/messaging has strong esthetic appeal. Through their own expertise and experience, professional printers can help bring a client's advertising vision to life, making the finished product attractive and accurately representative of the company.
While business owners may have an idea of how they want their brand to be represented, those working outside the print industry do not always understand what is both logistically and practically possible in regards to planning graphics for walls and windows. PSPs are able to suggest adhesive materials compatible with the intended substrate, resulting in graphics that are long-lasting and visually appealing. The selected materials, colours, and type say a lot about a brand, and designers can help a company develop complete corporate branding that unites graphics in a cohesive manner.
In addition to design creation and material selection, print shops can also apply these graphics for clients, which is often an invaluable service. Experienced applicators are able to streamline the installation process and ensure the final product is seamless.
Installation
When developing a new branding strategy for a business, there are many suggestions PSPs can offer to ensure the client stays on track and selects the best wall and window graphics for their purposes.
Wall graphic application
One of the most appealing things about incorporating walls in rebranding plans is that, thanks to advancements in adhesive technology, graphics material manufacturers can provide a range of products for a variety of these surfaces. For the most part, almost all walls are fair game in regards to graphics application.
That said, since all walls are different, it is important PSPs and their clients check the compatibility of material and surface before moving forward with a chosen media, as there are many factors to consider. For example, the graphics industry has faced new challenges with painted walls in recent years. This is because many manufacturers have changed paint formulations in an effort to reduce volatile organic compounds (VOCs) and make walls easier to clean. As such, some wall graphic solutions may not be as successful on a wall that features newer paint formulations.
To effectively determine what graphic materials will work best for a wall surface, clients should consider the following:
What is the surface made of?
Is the wall painted? What kind of paint?
Is it textured, smooth, or something else?
What is the condition of the surface?
How long is the graphic intended to be up?
Is the application intended for an outdoor environment or indoor?
Will the graphic be exposed to weather and/or heavy traffic?
Answering these questions will provide insight into what products will work best for the wall application.