By Samantha Ashenhurst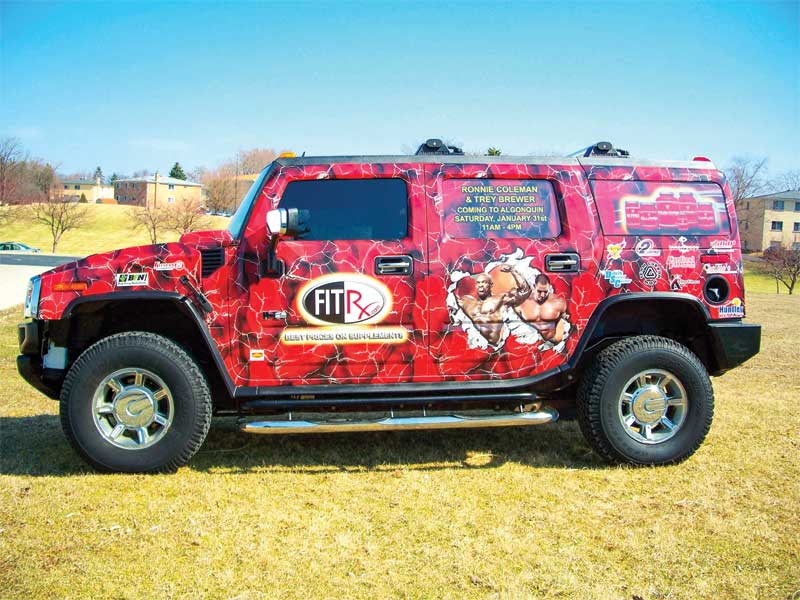 Vehicle wraps have proven themselves an excellent form of outdoor mobile advertising. The application of film graphics to cars, buses, trucks, and boats is an increasingly popular strategy for companies looking to reach a wide audience via a moving billboard.
As this trend grows, more and more sign shops are receiving orders for these unique applications; however, for some signmakers, there are still many uncertainties with regards to how to best handle these requests.
JMR Graphics, a 3M-certified manufacturer of commercial vehicle wraps, offers answers to common questions related to these applications, as well as advice for how to effectively preserve these graphics in varying weather conditions and tips for safe removal.
Creating eye-catching designs
Vehicle wraps rely on modern digital inkjet printing and skilled installers, but the most important part of the process may be the creation and development of the design.
Before printing or applying graphics, signmakers should take these considerations into account during the design phase.
Beware of space
While a computer screen on which wrap graphics are designed is two-dimensional (2D), the vehicle itself is, of course, three-dimensional (3D). So, it is important to be mindful of all of the nooks and crannies of the vehicle—such as door handles—that will affect how the image appears after it has been applied.
Be bold
Large, bold graphics are more certain to grab the attention of onlookers. As long as they appear sufficiently professional and proper to the client, do not shy away from dynamic designs.
Add a pop of colour
On a similar note, plain designs typically do not attract the most attention, so it is advisable to add some 'fun' with bursts of colour, taking advantage of the capabilities of vinyl graphics to show off creative, unique brand images to the public.
Do not overcrowd the vehicle
While a dynamic design is desirable, it is also important to beware of including too many images and/or words on the vehicle, which could overwhelm viewers and cause them to lose interest. It is better to use negative space to enhance the overall design.
Common questions about wraps
While the vehicle wrapping business has grown and its benefits are now well-known, new customers tend to ask the same questions before placing an order. It is important for sign shops entering this business to know how to respond.
According to JMR Graphics, the following are the five most commonly asked questions—and answers—about vehicle wraps:
How long does it take to install?
The wrap installation process is different for all projects. The estimated time of completion will depend on the type and size of vehicle (e.g. car, truck, or bus) and the intricacy of the wrap design.
With this in mind, sign shops should (a) provide estimates prior to ordering and (b) work closely with clients who need wraps completed by specific dates.
What is the process of ordering a vehicle wrap?
There are three phases to ordering a vehicle wrap, which should be explained to clients:
(a) The design phase, whereby the layout, text, and images are created.
(b) The production phase, when the design files are printed and prepared for installation.
(c) The installation phase, at which point the vehicle must be taken in for the application of the graphics.
How long will the wrap last?
There are different types of vinyl for different applications, so a sign shop should offer a variety of options based on durability, but most vehicle wraps will last for years with proper care. To reassure the customer, it is a good idea to offer a warranty plan in case of accidents or other damage.
Can the wrap be removed?
Any vehicle wrap can be removed, but of course the client will rely on a professional sign shop that can do so safely, preventing any possible damage that could otherwise result from an improper wrap removal.
Will the wrap damage the vehicle's paint job?
If a sign shop installs and eventually removes the wrap properly, the vehicle's paint job should not be affected whatsoever. Rather, upon wrap removal, the vehicle should appear the same as it did before.