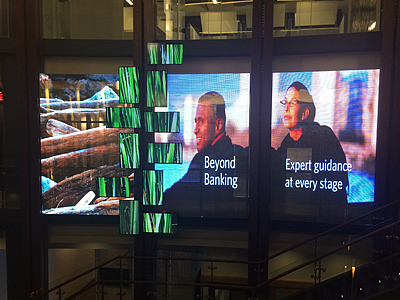 10net Managed Solutions, a Vancouver-based audiovisual (AV) technology integrator, has designed and deployed what it calls North America's first permanent transparent light-emitting diode (LED) video wall for BlueShore Financial.
Installed at BlueShore's new head office in North Vancouver, the 6 x 2.9-m (20 x 9.5-ft) video wall comprises an array of 5-mm (0.2-in.) pixel pitch LEDs mounted in a glass panel. It displays ultra-high-definition (UHD) '4K' West Coast imagery and an architectural montage.
"Our team is humbled to have participated in this one-of-a-kind project," says Trevor Nuttall, project manager and director of network operations.
10net also designed and installed a complementary 'cascading' video wall with 0.8-m (32-in.) liquid crystal displays (LCDs) in both landscape and portrait modes, with content synchronized to the transparent wall, as well as a 3 x 3-screen video wall with thin-bezel panels and custom LCDs alongside automated teller machine (ATM) kiosks.