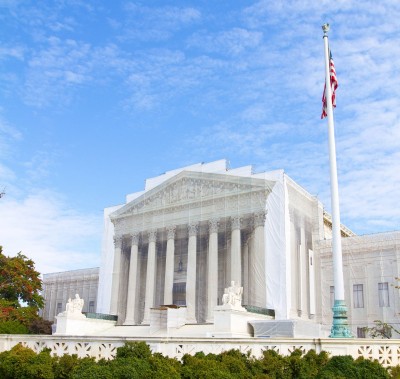 Top Value Fabrics' 249-g (8-oz) double-sided banner mesh was recently installed as a building wrap for the U.S. Supreme Court in Washington, D.C., while the comprehensive restoration of the building's façade began.
Merritt Graphics printed a full-scale image of the building's exterior onto the material, which was then installed over the scaffolding, ensuring the restoration crew could access and work on the façade for the duration of the project.
"The mesh installation allows this iconic building to remain recognizable for tourists and local residents alike, throughout the restoration," says Chris Fredericks, president of Top Value Fabrics. "We and our partners are proud to play a small part in the renovation of this historic landmark."
The renovations to the 77-year-old building include a detailed cleaning of the façade, replacement of mortar and sealants and a conservation treatment. As the ongoing work is completed, the scaffolding will be removed.