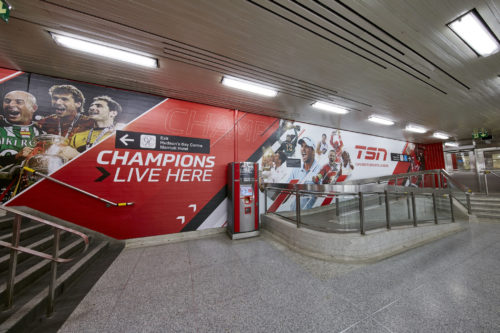 The Sports Network (TSN) is currently dominating the Toronto Transit Commission's (TTC's) Yonge-Bloor subway station with an out-of-home (OOH) advertising campaign highlighting the cable channel's current and upcoming championship games.
Installed by a 20-member crew over two days in early May, the 'Champions Live Here' campaign spans 70 station posters, 25 backlit posters, 51 unique wall graphics, 12 turnstile wraps, six murals, six horizontal stairwell posters, six liquid crystal displays (LCDs) and two fare booth wraps. The campaign has focused on the International Ice Hockey Federation's (IIHF's) 2016 World Hockey Championship, which ran until May 22, and the Union of European Football Associations' (UEFA's) 2016 Euro Championship, which will begin on June 10.
"As part of TSN's larger marketing strategy, the subway domination features high-impact visuals on a grand scale and targets hundreds of thousands of passengers at Canada's busiest subway station," says Jon Arklay, senior vice-president (SVP) of Bell Media Agency, which represents TSN and other Bell Media-owned properties.