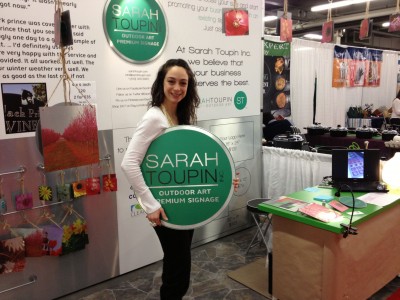 By Peter Saunders
Last year, when Sarah Toupin decided to go into business for herself in Kingston, Ont., she wanted to find a niche opportunity that would let her use her existing skill set. Trained in administrative finance and interior design, with an avid interest in photography as a hobby, she concluded she could combine these talents to propose and design signage for the local business community.
"There's always a need for advertising and signage in the business-to-business (B2B) market segment," she says.
Creative background
Toupin was born in Montreal and moved with her family to Sherbrooke, Que., when she was still a baby. After completing high school there, she took a three-year business administration course at the mostly anglophone Champlain College in Lennoxville, Que., mainly because she could learn English and become bilingual.
Shortly after graduating, she got a position with Future Shop that took her back to Montreal. She lived there for six years, eventually quitting her job to concentrate on studying interior design, which she was inspired to try after enjoying painting classes.
"I'm more creative than suited for finance or business administration," she explains. "I loved the beauty, quality and colour co-ordination of interior design. It was an intense course, but by the end, I could design a space from scratch, from architectural drawings to textures, lighting and furniture."
During an internship with Look Image, an interior design firm in Montreal, she did work for a wide variety of projects, including private residences and commercial retail spaces.
A few months later, she met her common-law partner, Jason. He was in town on a business trip from Edmonton, so as their relationship grew, she joined him out west.
"We lived together in Edmonton for three years," she explains. "During that time, I worked for a company that sold hardwood flooring, which tied in with interior design, but I wasn't great at being a salesperson."
In 2010, Toupin's partner took a job in Kingston. They have lived there since.
"When we moved, I was pregnant," she says. "I was kept busy with our baby for the first 16 months. Then I saw an ad for a fast-track learning program that helps people start their own business, which I've always wanted to do."