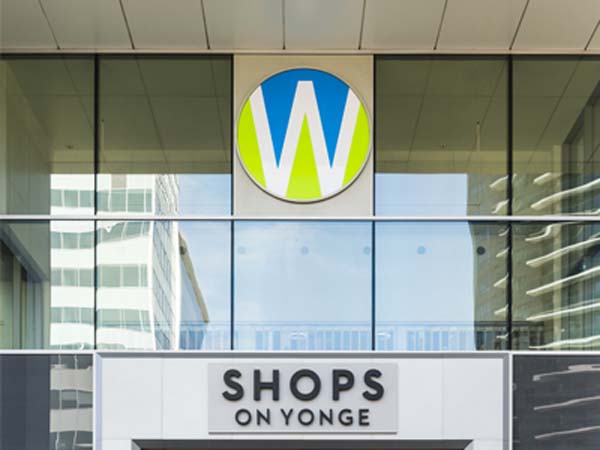 By Peter Saunders
World on Yonge is a new 4-ha (10-acre) mixed-use development just north of Toronto in Markham, Ont., with a single wayfinding and signage package visually connecting its various facilities, which include a public shopping mall, a hotel, two residential condominium towers, stores to serve residents, offices and parking lots. Toronto-based Entro and Forward Signs were commissioned by Liberty Developments to create this system, including site identification (ID) signage, interior and exterior directional signs, shopping and elevator directories, amenity signage, wide-format printed graphics and parking signs, along with standards for tenant signage.
"Forward Signs has been getting more involved in mixed-use projects, as developers are putting up more of them," says Vincent Matthieu Gratton, an associate for Entro. "They came to us and encouraged us to approach the client, who was still looking for a design firm."
They also worked with Darcon's team of contractors and engineers to integrate signage into the built environment.
A balancing act
As an environmental graphic design (EGD) firm, Entro was tasked with developing a visual language for World on Yonge, which Forward Signs would then turn into reality.
The client wanted to represent a modern, urban community with signs that reflected the energy and distinctive nature of the mixed-use space. Entro's team, in turn, sought to achieve the right designs through a combination of vibrant colours, distinct patterns and elegant typography.
"We tried to keep the designs specific to each facility, but with some consistency overall," says Gratton. "We also made sure not to 'over-sign' the environment because the various portions of the development are distinct from one another."
Indeed, the project was a balancing act, where the client and many tenants needed to be represented, but in a manageable way for visitors to comprehend.
"It was like all of the projects we typically handle combined into one," says Gratton. "Overall, though, it was a bit like designing for a hospital, where people are looking for different services and you have to triage them through different areas. There are so many services in one place, but the people visiting are looking for just one or two of those, so there may be no logical progression to their path."
One source of potential confusion was the development's nomenclature. There are two shopping zones: 'World Shops,' a series of retailers and offices on the ground floor of the residential Parkside Towers flanking Yonge Street, intended primarily to serve condo residents and hotel guests; and 'Shops on Yonge,' a more public-oriented mall that is not actually on Yonge, but rather set back from the street in a courtyard.
"We struggled with the fact the Shops on Yonge aren't on Yonge," says Gratton. "We needed to ensure there was enough sign visibility to draw customers through the complex to the mall."