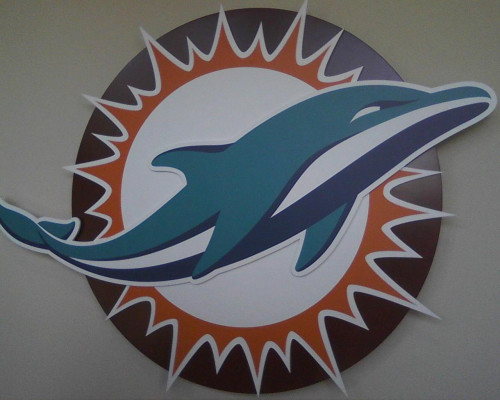 Metro Signs in Hollywood, Fla., has created new Miami Dolphins logo signs for the National Football League (NFL) team's training facility, using 3A Composites' Gatorfoam graphic display boards.
Adhered to the facility's walls with silicone and double-sided tape, the signs (example pictured) are only the most recent project in an ongoing business relationship between Metro Signs and the Dolphins.
When the team unveiled its new logo design and uniforms at an NFL draft party in April 2013, for example, the sign shop produced a stage backdrop showcasing two larger-than-life 4.9-m (16-ft) tall images of players in the uniforms (pictured below). The standees and a central helmet image were printed onto vinyl, matte-laminated onto 25-mm (1-in.) thick Gatorfoam and hand-cut with a jigsaw. Separate helmet images were also mounted to 12.7-mm (0.5-in.) thick Gatorfoam to add a dimensional layer to the standees, which were positioned on either side of a black wooden box featuring hand-cut lettering.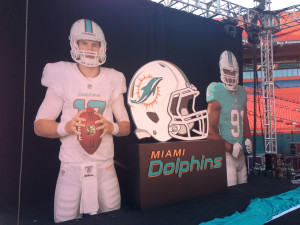 "We're the Swiss Army knife of graphics companies," says Bruno Dede, president of Metro Signs. "We create everything from nametags to 30.5 x 30.5-m (100 x 100-ft) vinyl graphics installed outside stadiums."
Many of the company's logos and lettering applications with intricate details are hand-cut with either a jigsaw or a scroll saw, while those requiring computer numerical control (CNC) routing are outsourced.
"We like using Gatorfoam when we're hand-cutting because it never delaminates," Dede explains. "There are times we can just cut ist and go. We use it to create raised lettering because it has a hard wood-fibre veneer shell. Other products with a polystyrene (PS) shell don't work as well for us."