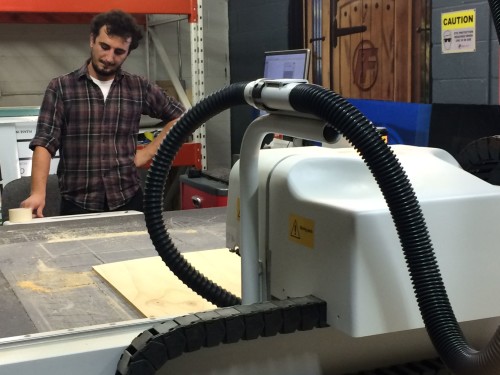 Having installed Ontario's first Esko Kongsberg V cutting table, Toronto-based Full Frame Signs and Scenic Art is now able to work with more materials and produce a wider range of output for the local film and TV industry.
Full Frame's executive director, Sean Vizsy, comes from the film industry himself and decided to become a service supplier to it. He developed a business relationship with Cinespace Film Studios, creating signs and other scenic art for film and TV productions, from flooring to wall posters to storefronts. Today, Full Frame has offices at Cinespace's properties in the east and west ends of Toronto, along with a custom apparel business in Paris, Ont.
Vizsy shopped for a cutting table for almost two years before choosing the Kongsberg V (pictured with project manager Derek Ferrusi) to help expand Full Frame's range of substrates and speed up graphic design and file setup processes.
"There is a great opportunity with digital scenic art or set pieces, because most cannot otherwise be cut without investing in a lot of people to spend a lot of time carving by hand," he explains. "When we bought the table, we had five people sweating to get work done late at night and we were struggling to find staff. Now, with the table, sales have increased 30 to 40 per cent, but we're not hiring, because we no longer rely on someone to manually cut signs."