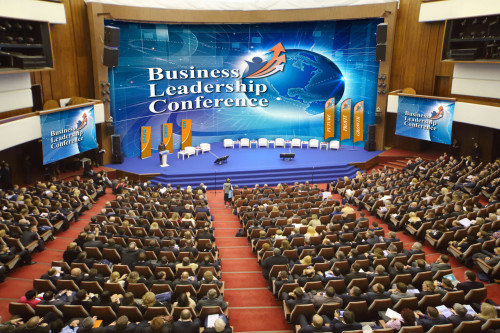 As businesses and other organizations plan regional meetings, national conventions, fundraising galas and other large-scale events for the year ahead, there is an important opportunity for sign shops to ensure they present a consistent visual experience.
"The average adult's attention span is shrinking, making well-planned event graphics more crucial," says Drue Townsend, senior vice-president (SVP) of marketing for sign shop franchisor FastSigns International. "Distinct, attention-getting signs and graphics create a seamless brand experience, which helps attendees learn about the event and stay engaged."
From banners to décor, wide-format printed graphics can visually transform a venue and make a distinct impact at different stages. With that in mind, FastSigns offers the following seven tips to help make the most of customers' corporate events:
Suggest promoting the event ahead of time with banner stands and other wide-format printed graphics.
Print wall murals, colourful table throws and fabric backdrops for use on the day(s) of the event.
If the event involves an auditorium, wrap the podium and customize further graphics for the stage (example pictured).
Use or add digital signage in strategic locations to promote the different activities that are part of the event (e.g. meeting schedules).
Produce and install temporary directional wayfinding signs to help event attendees get where they need to go.
Print on removable substrates for wall, window and floor graphics, so the customer can display messages in more places.
Suggest thanking sponsors and attendees as they exit the event with A-frame signs and bow flags.
With files from FastSigns International. For more information, visit www.fastsigns.com.