By Sonia Yooshing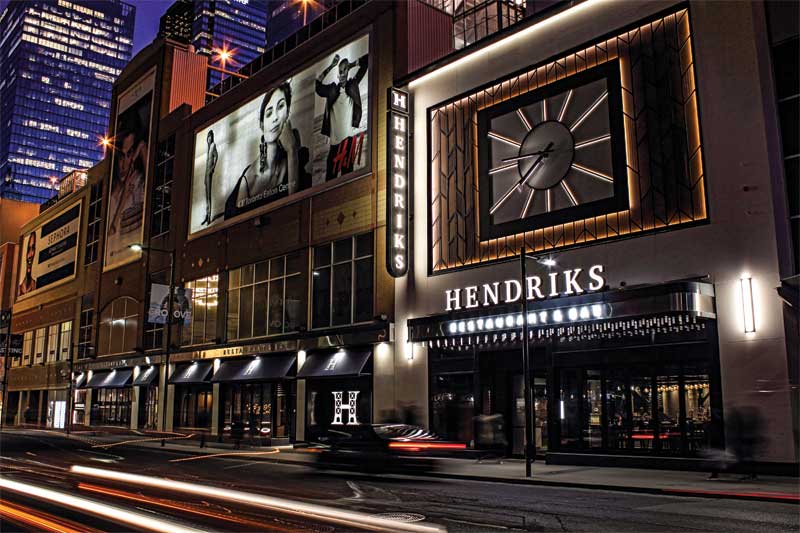 When the owners of Bâton Rouge decided to reinvent their establishment and reopen as Hendriks Restaurant and Bar, they entrusted Toronto-based impactful signage and immersive environment creators Twilight Signs to infuse a dramatic element into every aspect of their upscale dining experience.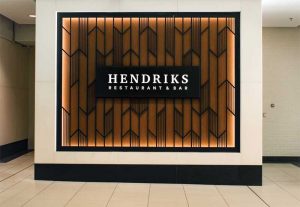 The restaurant's esthetics, both inside and out, blends light, colour, and linework to recreate the unique feel of New York's bridge architecture. What catches the eye instantly is an unconventional mix of metal and wood features, which accentuate the building's exterior. As visitors try to take in the store's façade in its entirety, one cannot help but marvel at the oversized clock, set amidst laser-cut grills, which brings together metal and vinyl in an elegant fusion. Just below, large channel letters overhang the grand entrance marquee, which is illuminated by a host of white light-emitting diodes (LEDs) and is undoubtedly a collaborative marvel of engineering and design. The adjacent blade flaunts push-through acrylic letters on a signbox illuminated by white LEDs. Custom-branded awnings and window graphics add to the beauty of the overall architectural signage.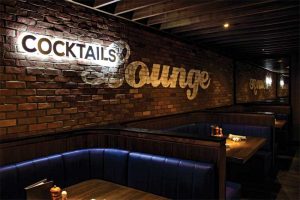 The interior replicates similar bold design finishes and modern accents, which lend a unique and eclectic flair to the restaurant's ambience. Brilliantly lit Acrylishell letters offer a sharp, yet stunning, contrast to the exposed brick wall of the 'Cocktails Lounge,' while the illuminated indoor signbox complements the metal and vinyl features throughout.
A project like this—with several custom details—can be difficult to execute; however, Twilight Signs was able to complete the job successfully, including artwork, prototyping, and implementation processes. Innovative solutions like the storefront's colossal metal branding brought the client's vision of a new restaurant concept to life.