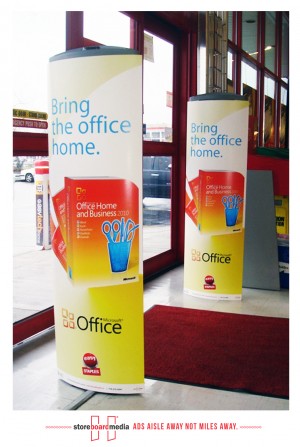 StoreBoard Media Canada, based in Coquitlam, B.C., has added Staples Canada and Zellers to its retail advertising network, which places ads on security pedestals at entrances and other high-traffic areas in stores.
The two agreements will add nearly 4,000 pedestals to StoreBoard's network. Staples operates 347 stores in Canada, which attract more than 97 million visitors each year. Zellers, a 277-store subsidiary of Hudson's Bay Company (HBC), recently sold many of its high-profile leaseholds to U.S.-based retailer Target, but continues to operate 84 locations.
"We are delighted to add Staples Canada and Zellers to our growing in-store billboard network," says Klint Rodgers, president of StoreBoard Media Canada. "We look forward to helping marketers reach the millions of customers who shop at these establishments."
"It offers a great opportunity to 'dress up' our security pedestals with colourful, attractive advertising of interest to our customers, while also providing a stream of incremental revenue," says Rui Rodriguez, national director of loss prevention for Staples Canada.