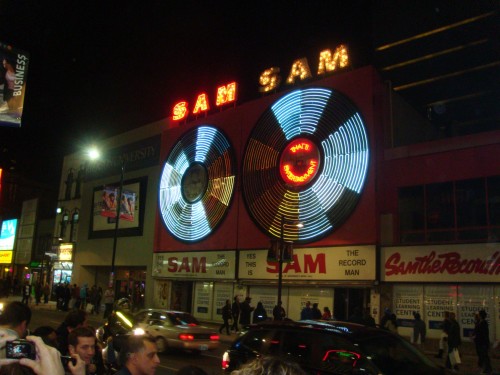 Ryerson University in downtown Toronto has issued a request for proposals (RFP) seeking qualified sign installation companies to return the famous Sam the Record Man sign to Yonge-Dundas Square.
Ryerson's Student Learning Centre sits on the former site of the flagship Sam the Record Man store (pictured), which closed in 2007 and was demolished in 2008. Gregory Signs & Engraving of Vaughan, Ont., carefully dismantled and stored the famous neon signage, designed to resemble two giant spinning records (see Sign Media Canada, April 2009, page 22).
In 2014, city council supported a proposal to reinstall the sign on top of its Toronto Public Health building at 277 Victoria Street, which faces Yonge-Dundas Square. Ryerson will cover the costs and no timeline has yet been set.