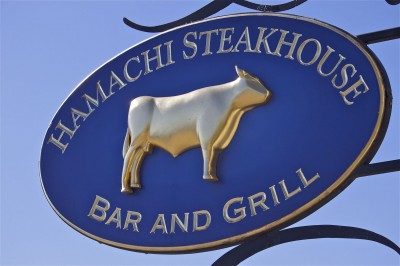 So, traditional signmakers have to cautiously navigate a path between the client's brand and the sign shop's craftsmanship. It is important to understand the customer's expectations, but there is also the opportunity through conversation to help clients appreciate the artisan's approach and the labour-intensive process of building a customized sign by hand.
"Knowledge can breed passion," says Jake Ethridge, owner of Eyecandy Signs in Halifax.
Within an urban revitalization effort, especially, pride in purpose helps give all partners a sense of ownership. Together, they can nurture signage that is locally focused and maximizes the significant qualities of each business.
Through a combination of vision, knowledge and technology, sign shops can deliver products that are both consistent and unique. They will be inspired to give their best.
Drawing connections
As the early 20th-century German-American architect Ludwig Mies van der Rohe put it, "God is in the details." Subtleties help unique signs take form.
Indeed, connections can be drawn between the craft of signmaking and the greater world of art and architecture. In all of these fields, professionals are constantly refining their processes, customizing their tools and gaining better control over their techniques.
When it comes to sign painting, for example, specialized shops mix and blend their paints in-house, relying on formulas and software to ensure colour consistency. These systems allow the quick production of accurately colour-matched coatings.
Nevertheless, the true colour authority is the sign painter, whose sharp eye and understanding of the intricacies of colour theory can improve upon standard calculations and formulas.
"When complementary colours are combined in just the right composition to capture and articulate a sign's 'mood,' they create a unique symphony of light and contrast," says Ethridge. "Unexpected hues and tonal values can generate a quality that otherwise would not exist."
A similar union between computer numerical control (CNC) routers and sculptors' hands can also breathe life into dimensional signs, blending precision with depth of character. Many traditional sign shops are already benefiting from the speed and accuracy of CNC machines when shaping contours and carving broad strokes. The artisan remains the master, however, as traditional sculptors step up after CNC tool bit passes to embellish and refine the work with modelling clay and a chisel. Only an adept signmaker can animate the subtle qualities of a sign's highlights and shadows.
By being bold and experimental, with a willingness to take risks, sign artists can grow their talents and elevate the potential of their work. Sometimes they will fail, but with humility they will learn from their mistakes, rather than try to hide from them. The experience can instill excitement and courage in them as they go on to develop new projects.
Working together
Creating personal connections and enduring relationships through thoughtful design, careful execution and attention to detail will enable traditional sign shops to remain relevant in the digital age. They can work together with municipalities and fellow creative designers to revitalize Canada's urban landscapes, adorning them with signs that celebrate a vibrant sense of place, honour the warmth of their communities and beautify their streetscapes.
Allison Moz is design principal for Halifax-based Eyecandy Signs. For more information, visit www.eyecandysigns.ca.