Retail design goes digital for latest Jays Shop
April 1, 2015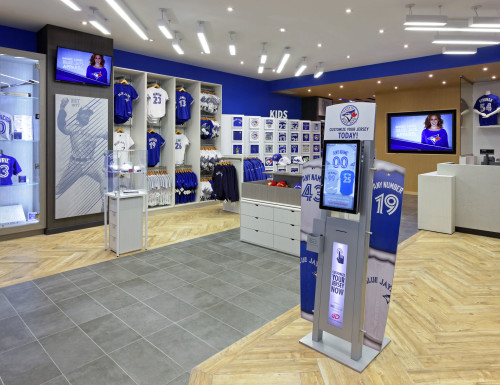 [1]Having worked closely with the Toronto Blue Jays baseball team on multiple initiatives over the years, local design firm Shikatani Lacroix recently configured an array of digital signage for the new flagship Jays Shop in Toronto's Eaton Centre.
Tasked with retail design and brand strategy implementation, Shikatani Lacroix built upon its previous experience working with the Jays, having previously designed both their original team shop and a 929-m2 (10,000-sf) flagship store at the Rogers Centre, among other projects. The new satellite store would capitalize on the Eaton Centre's heavy shopping traffic and status as a tourist destination, as sales of sports memorabilia are strong among visitors to the city, well beyond the stadium. This local opportunity has been particularly strong since the Jays are Canada's only Major League Baseball (MLB) team.
"Shikatani Lacroix understands the Toronto Blue Jays brand and how to communicate it effectively and creatively across multiple channels," says Anthony Partipilo, the team's vice-president (VP) of marketing and merchandising. "We were thrilled to work with them again to design and produce our first stand-alone Jays Shop."
Compared to earlier methods for increasing customers' affinity for the Jays' brand, the challenge this time was to use digital signage to create a more engaging, interactive environment. The resulting layout features 16 screens and seven unique digital experiences.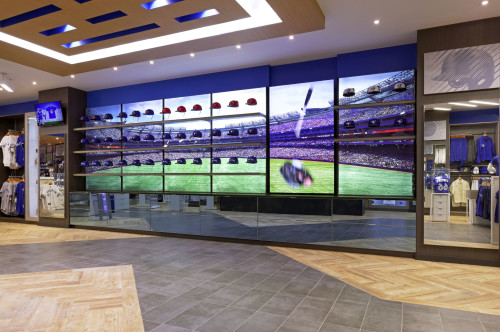 [2]Customers are greeted by a 10-screen video wall at the entrance, then led through the store by other digital signage placements, including a multi-screen animated hat wall. Secondary screens promote merchandise and feature both live game feeds and memorable moments from the team's history. Touch-screen kiosks even allow customers to customize their jerseys.
"The Jays' leadership identified ways to leverage their brand through a wider range of consumer touch points," says Jean-Pierre Lacroix, president of Shikatani Lacroix and member of Sign Media Canada's editorial advisory board (EAB). "By creating experiences that celebrate the team, we're supporting a platform that drives incremental sales and revenues throughout the year. This is a shop that immerses the consumer in all things baseball."
The store opened in August 2014, with thousands of visitors lining up to check it out and meet some of the Jays in person.
Endnotes:
[Image]: http://www.signmedia.ca/wp-content/uploads/2015/03/03_SL_BLUEJAYS_06.jpg
[Image]: http://www.signmedia.ca/wp-content/uploads/2015/03/02_SL_BLUEJAYS_07.jpg
Source URL: https://www.signmedia.ca/retail-design-goes-digital-for-latest-jays-shop/
---