Programmatic platforms drive DOOH growth
November 9, 2017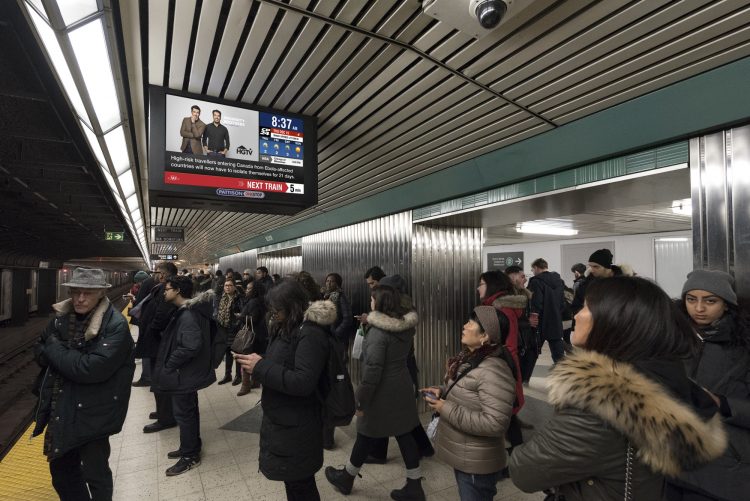 [1]The digital out-of-home (DOOH) advertising market was valued at US$12.5 billion in 2006 and will reach US$26.2 billion by 2023, according to a new forecast from Research and Markets, for a compound annual growth rate (CAGR) of 10.7 per cent.
Programmatic ad platforms are playing a major role in this growth. These offer online auctions where media buyers can specify their requirements, target certain audiences based on demographics, time of day and/or location and work within their budgetary constraints. In Canada, for instance, Pattison Onestop's digital signage inventory (example pictured) is now available on the Campsite platform. The Digital Place-based Advertising Association (DPAA) recently conducted a survey that shows 39 per cent of media buyers are currently interested in programmatic planning for their DOOH campaigns.
At the same time, DOOH screens are increasing in number, with direct-view fine-pixel light-emitting diode (LED) displays becoming common in outdoor, retail and transit environments. And the intuitive nature of touch screens is being tapped for innovative DOOH campaigns, whereby the public interacts with kiosks and other displays.
That said, Research and Markets points out there are restraints affecting the growth of the market, including (a) a lack of standards for interoperability between proprietary technologies and (b) the concurrent, stronger growth of online advertising.
Endnotes:
[Image]: https://www.signmedia.ca/wp-content/uploads/2017/11/campsite.jpg
Source URL: https://www.signmedia.ca/programmatic-platforms-drive-dooh-growth/
---