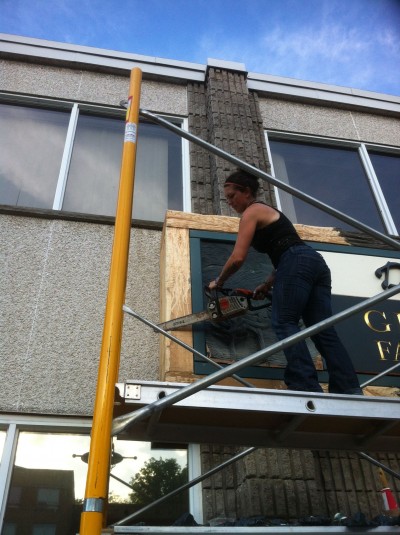 By Peter Saunders
Ingrid Sophia Zimmer-Zschogner was born in Toronto and has lived all over Canada, from Baffin Island, Nunavut, to Calgary to Rosseau, Ont. Today, she is the director of Wildrose Designs, a sign and graphic design company that has been able to serve clients in both eastern and western provinces.
"I just take my laptop computer wherever I go," she says. "I can design anywhere."
A background in art
Zimmer-Zschogner's earliest encounter with signmaking took place when she was 13 years old. She helped her father, Dietmar Zschogner, hand-paint a billboard to advertise his airline service in Parry Sound, Ont.
She began her professional art career while in high school in Calgary, when at just 14 years old she landed her first corporately commissioned project. This and other early pieces in her portfolio earned her a scholarship to study at the Alberta College of Art and Design (ACAD).
She left Alberta in 1999 after her first of two daughters was born, as her husband at the time was from Ontario. While raising the girls as a stay-at-home mom, she pursued a part-time career as a wildlife and portrait artist, opening her own private gallery in the village of Rosseau.
"All people, pets and wild animals are filled with vitality and emotion," she says. "Each personality bears its own distinctive mark. I try to capture that fleeting, honest expression and gesture. Whether commissioned or personal, my art was a direct response to the beauty and sensitivity of each subject's spirit."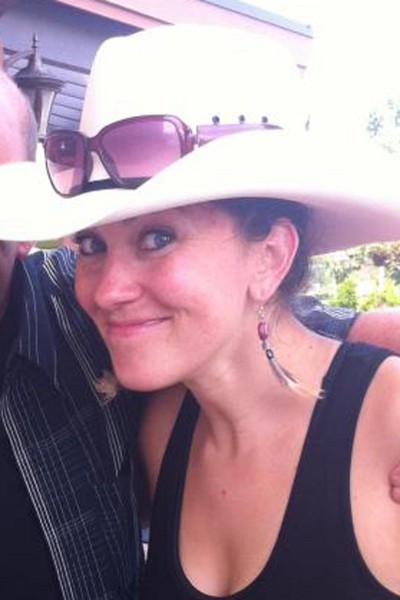 The art helped Zimmer-Zschogner to flourish after she had tried working in aircraft maintenance—where her sister followed in their father's footsteps—and carpentry, where she felt discouraged by sexism in a male-dominated culture.
"That always turned me off," she says. "I got a lot of negative comments and I felt isolated."
She befriended a local signmaker, Mike Laver, who owns and operates Bay Street Graphics in Parry Sound. As she expanded her artistic talents through self-teaching and branching into graphic design, he taught her a variety of signmaking skills, ranging from cutting paint masks and stretching photos on canvas to using signmaking software.
"He provided me with a wealth of knowledge and inspiration," she says. "He gave me a book about designing and hand-carving wooden signs the old-fashioned way. When I researched sign shops in the area, however, I learned they were all sandblasting cedar, which I'm allergic to! So, I decided to use epoxy resins, like my father uses in the aircraft industry, and high-density urethane (HDU), which does not rot or warp like cedar can."
She consulted with other sign shops, as well as signmaking equipment distributors, and attended trade shows to learn more about what was possible.