Finding tomorrow's employees
One such program is Sign Manufacturing Day, a byproduct of ISA's work with the National Association of Manufacturers (NAM), which had already established National Manufacturing Day in the U.S. The idea is to invite students to tour manufacturing facilities and get them interested in pursuing related careers.
"Lori Anderson and Allison Kent, ISA's president/CEO and director of workforce development, respectively, brought NAM's program over to the sign industry," Mattatall says. "They helped sign companies see the benefit of it and they continue to offer a great deal of assistance to firms that wish to participate."
For the first two years of ISA's program, 2013 and 2014, Mattatall Signs was the only Canadian company to participate. Since then, however, others have joined in across the country, including Colortec Creative Print Solutions in Burnaby, B.C., Advantage Signs in Fort Saskatchewan, Alta., Sleek Advertising in Regina, Pride Signs in Cambridge, Ont., Twilight Signs and Neon in Caledon, Ont., Les Enseignes Amtech in Joliette, Que., Enseignes Plus in Châteauguay, Que., and Hansen Signs in Moncton, N.B.
"It's a chance to show kids all of the cool tools we get to use," says Mattatall. "Within the sign industry, everything's custom-made, not mass-manufactured. We get to pull a lot of very different trades together. In this sense, making a sign is a bit like building a house."
He hopes the trend that has been started with Sign Manufacturing Day will continue to spread across the industry, as the fostering of tomorrow's signmakers has become a major challenge.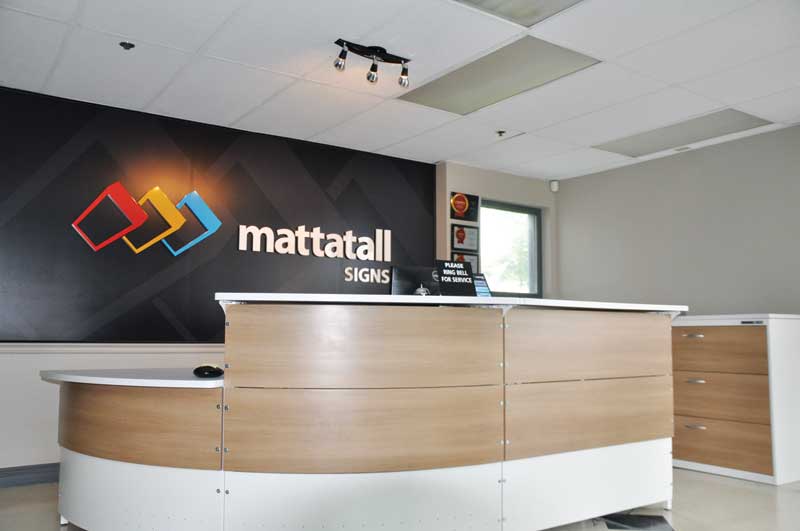 "There has been phenomenal growth in education at the annual ISA Expo," he says. "ISA also has skills assessment and validation badge programs that help give employers confidence in competently trained employees. People today are looking for these smaller snippets of training, not a four-year college degree in signmaking."
Mattatall Signs, for its part, has long engaged with local high schools and community colleges, offering tours for students throughout the year, not just on Sign Manufacturing Day.
"New employees could come from anywhere," says Mattatall. "Ensuring you're well-staffed for the future requires multi-year investments in training and hiring. In this part of the country, for example, we lost a lot of young, talented and well-trained people to the oil industry boom in Alberta. Some of them are starting to return home now, as jobs are shifting back east."
To avoid becoming too dependent on the ebbs and tides of the local labour pool, Mattatall Signs focuses on both external and internal training programs. In particular, cross-training—where production employees are taught how to perform more than one job function—has helped lead to better use of resources and boosted the employees' enthusiasm and morale, which pays off in terms of retaining them for a longer tenure.
"Our average production or service employee has been in our employ for well over 10 years," says Matatall.