By Peter Saunders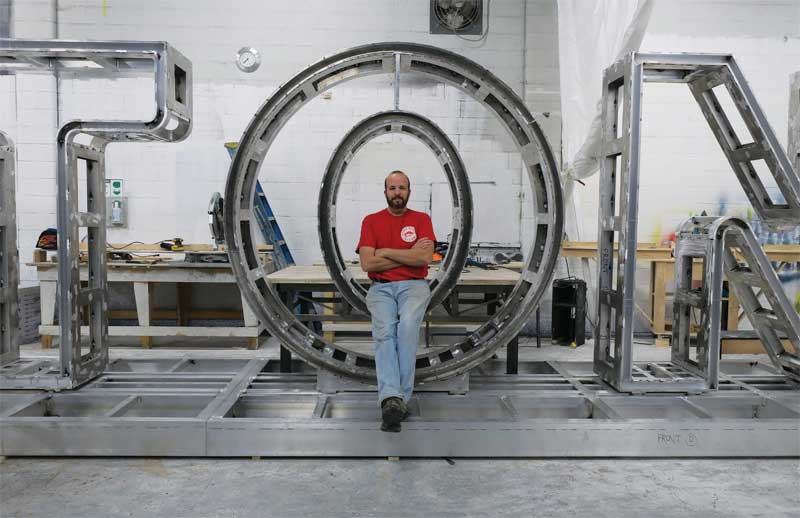 A new illuminated sign was recently installed in the forecourt of Hamilton City Hall, featuring letters large enough for visitors to stand inside. Unlike the dimensional Toronto sign, which was originally intended only for temporary use during the 2015 Pan Am Games, this one has been built to last, by Hamilton Scenic Specialty (HSS) in nearby Dundas, Ont.
A setup for stage sets
When Mike Kukucska founded HSS in 2000, he and his team were primarily experienced in the construction of theatrical sets and recognized an opportunity to continue to succeed in that field.
"We had business relationships with a lot of American theatre companies and the Canadian dollar was quite low at the time,"he explains. "We just needed to know when to say 'no,' as your business will fail if you overextend yourself."
HSS started in a 557-m2 (6,000-sf) space and its first project was a set for the Broadway production of the Abba musical, Mamma Mia!
"It was designed to break apart, fit in a truck and then get put together again on the stage," says Kukucska. "Through these kinds of projects, we developed a good reputation as a talented workforce."
Indeed, HSS went on to build five Mamma Mia! sets as the show grew with touring companies and was staged in Las Vegas, Nev. The company also did work for The Lion King, Blue Man Group's shows and The Sound of Music.
As one might imagine, fabricating props, backdrops and sets for such large-scale stages in a moderate-sized facility was challenging. With a tape measure in one hand and the other tending to his notebook computer, Kukucska laid out the shop floor plan as efficiently as possible.
"We put our tool stations on wheels, so we could shift things around," he explains, "and we found other clever ways to work with very little. Sometimes we even built outdoors!"