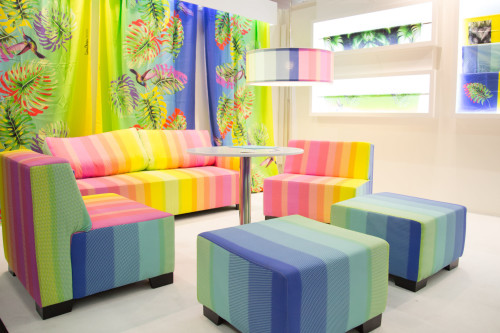 In May, the first-ever Printeriors showcase debuted at the Federation of European Screen Printers Associations (FESPA) show in Cologne, Germany. As the name suggests, it was dedicated to the growing field of digitally printed and screenprinted interior décor.
Rather than being set up like a typical trade show floor, however, Printeriors comprised a series of 'room sets' designed by industry suppliers and their customers to exemplify the creative visual and tactile opportunities of printed interiors, complemented by a one-day conference led by interior designer Wayne Hemingway. Each of the rooms reflected a retail, corporate, hospitality or residential setting.
Retail
A Touch of Class (ATC) Groupe used Re-board, a rigid paperboard with a fluted core, to recreate a retail environment. Lite combined a frameless system with custom-coloured graphics. Retail Communicators set up a dynamic space with both digital prints and light.
Corporate
David Bartlett Designs, which specializes in branded furniture, used cardboard as the basis for an interactive 'light and sound' dome. Saati, meanwhile, used its own screenprinting chemicals and fabrics to produce a corporate setting resembling an aircraft cockpit (pictured below).
Hospitality
Self-adhesive vinyl manufacturer Hexis printed laminate walls and flooring for a 'coffee corner,' while Mutoh used its ValueJet digital wide-format printers to create interior décor replicating a gin bar.
Residential
HP's room set applied its durable aqueous 'latex' inkjet printing to fabrics to recreate a residential setting designed by Robin Sprong and Juan De Lascurain. Fabric and foil provider Pongs used high-resolution digital textile printing to decorate a lounge-style room. Substrate manufacturer Sihl Digital Imaging inkjet-printed wallpaper, cushion covers and curtains for its space. And finally, Kornit Digital used its Allegro water-based pigment-ink fabric printer to add graphics to both textiles and furniture.