POP graphics updated at Jays Shop
by all | 12 March 2012 2:29 pm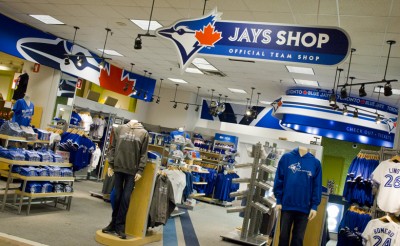 [2]
Design firm Shikatani Lacroix Brandesign has updated the point-of-purchase (POP) graphics throughout the Jays Shop at the Toronto Eaton Centre to reflect the major-league baseball team's new branding.
The 135-m2 (1,450-sf) shop—which is housed within the mall's Sears department store—showcases large, abstract details of Toronto Blue Jays' recently redesigned logo. Existing graphic structures were simply 're-skinned' to keep the makeover cost-effective, maintaining the core architectural aspects of the original retail design. Some new carpeting and wall colours were added, as well, including a 'turf wall' that adds a touch of green among all of the primarily blue merchandise.
To help ensure all of the décor remains up-to-date in the future, the images were chosen to highlight the Jays' brand and baseball in general, rather than specific players. Shikatani Lacroix also designed a new logo for the shop itself.
Endnotes:
[Image]: http://www.signmedia.ca/wp-content/uploads/2014/02/SearsJaysShop5.jpg
[Image]: http://www.signmedia.ca/wp-content/uploads/2014/02/SearsJaysShop3.jpg
Source URL: https://www.signmedia.ca/pop-graphics-updated-at-jays-shop/
---