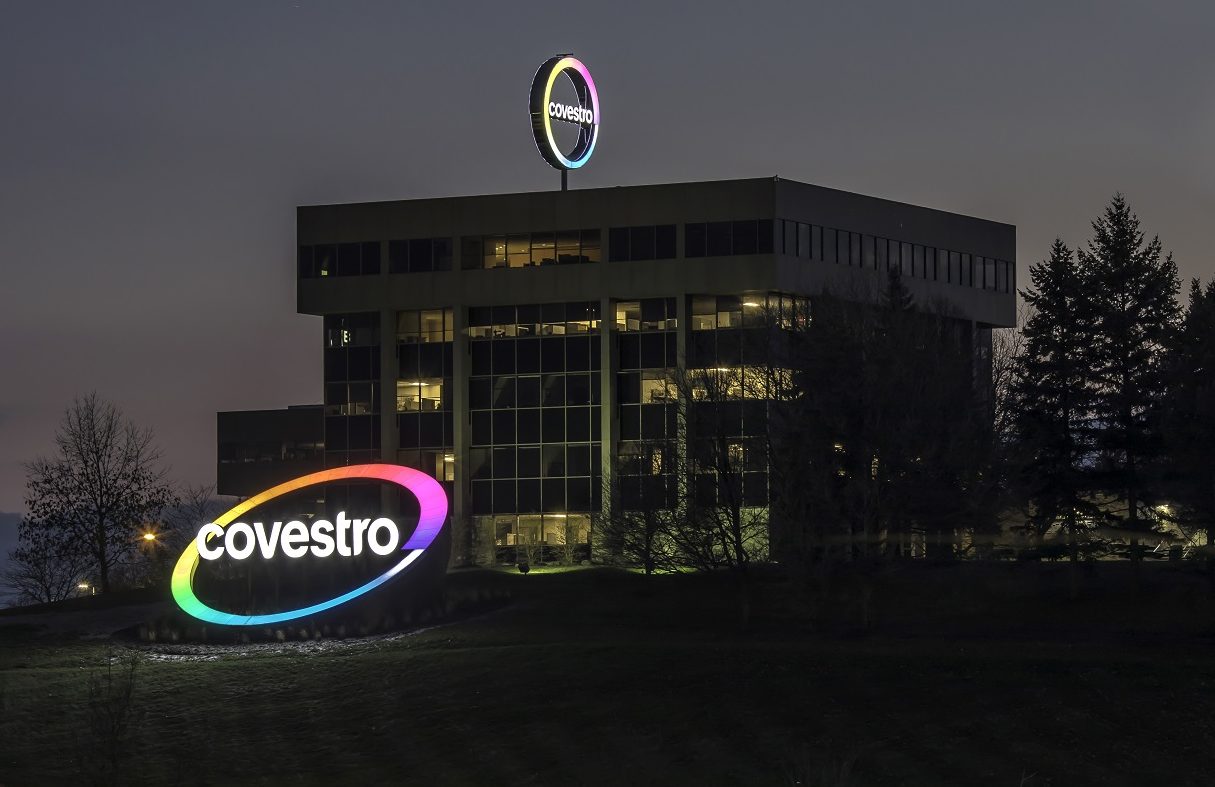 Having rebranded just over a year ago, polymer material manufacturer Covestro needed to update the directional and wayfinding signage at its North American sites, which gave it an opportunity to showcase how its own products can be used.
"We have been supplying engineered polycarbonate sheeting for more than 60 years," says Ken Licklider, sign and lighting segment manager for Covestro's polycarbonate sheet business, referring to the company's past as Bayer MaterialScience. "It's a source of pride to see our materials being used to bring our own logo and signage to life."
At the company's headquarters (HQ) in Pittsburgh, Penn., the logo is clearly visible to passing motorists along the city's airport traffic corridor. Measuring 6 m (20 ft) in diameter, the logo is designed to appear as though it floats on the roof of one of the buildings. The illuminated channel letters and the ring both use the company's Makrolon polycarbonate sheet.
The logo also appears as a hillside lawn sign spanning 14.6 m (48 ft), including a colourful ring portion—measuring more than 1.2 m (4 ft) at its widest point—that was formed using transparent Makrolon abrasion-resistant (AR) polycarbonate sheeting, hardcoated to protect the material against ultraviolet (UV) rays and chemicals. To fabricate the ring, the sheet was cut and routed into the shape and then Covestro's brand colours were digitally printed onto a vinyl film and adhered to the material's rear side.
Each letter in the lawn sign stands 1.8 m (6 ft) tall, weighs approximately 136 kg (300 lb) and was formed using sign-grade Makrolon SL polycarbonate sheeting to provide both impact strength and high temperature resistance. The ring and the letters are illuminated with 3,375 light-emitting diodes (LEDs).
For a site in Sheffield, Mass., a Makrolon SL monument sign face was retrofitted into an existing metal channel to welcome employees and visitors with directional information. Finally, a site in Newark, Ohio, features two illuminated logo signs mounted on the company's colour competence and design centre, as well as two street-level monument signs.