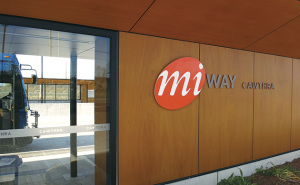 Toronto-based environmental graphic design (EGD) firm Entro has developed a wayfinding program for the new Mississauga Transitway (MiWay) project, which saw its first dedicated bus corridor open in Mississauga, Ont., in November.
Entro began working on the project at the initial planning stage in 2009, which has allowed the signs to be designed for integration with new architecture. The MiWay brand's orange oval form was selected to suggest a wheel in motion. The program includes a range of exterior and interior identification, trailblazing and electronic signs.
The first MiWay segment covers 18 km (11.2 mi) between Winston Churchill Boulevard and Renforth Drive and has reportedly reduced commute times by 10 to 15 minutes.