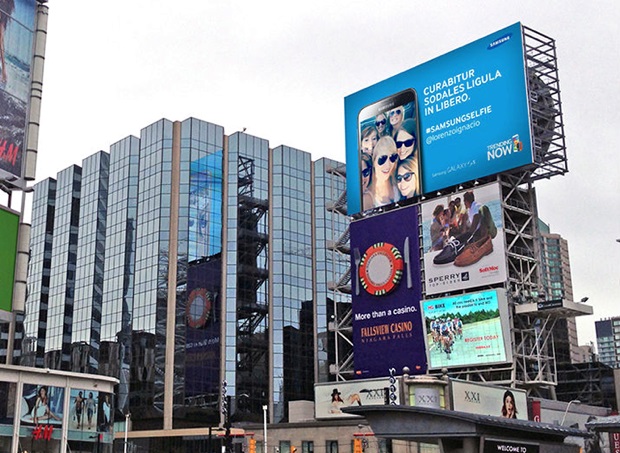 The out-of-home (OOH) advertising industry is experiencing trends of growth in both revenue and influence on consumers, according to new research shared by the Out-of-Home Marketing Association of Canada (OMAC).
OMAC cites data from Nielsen showing OOH ad revenue grew by six per cent in the first quarter (Q1) of 2016 compared to Q1 of 2015. Having already experience significant growth over the past five years, global OOH revenue is forecast to increase by four to five per cent for the rest of 2016. OMAC credits this trend to a number of factors, including 'audience erosion' for other media, an increasingly mobile and active populace and new investments in digital OOH (DOOH) technology.
Further to this last point, an OMAC-commissioned study shows audience recall for DOOH ads is high, particularly in major cities, where more than one half of surveyed shoppers recall ads on a weekly basis. The study found four in 10 shoppers are interested in interacting with digital ads to obtain information about or promotional offers of products and services. Further, more than seven in 10 survey participants agreed digital signage is an effective means to communicate with them.
"DOOH is seen as an effective way to communicate timely and relevant information to Canadians," says Rosanne Caron, president of OMAC and member of Sign Media Canada's editorial advisory board (EAB). "It is the ideal medium for public safety messages and to promote products and services."
Another study of more than 40,000 Canadian shoppers by BrandSpark International examined the influence OOH has on consumer habits. It found more than 75 per cent of shoppers pay attention to the ads, as they are particularly active and alert when outside their homes.
To help media planners and buyers, advertisers, agencies and schools take better advantage of these trends, OMAC and the Canadian Out-of-Home Measurement Bureau (COMB) have introduced an OOH certification program. Five modules cover various OOH formats, networks and methods of audience reach/frequency (R/F) measurement. Participants will need to commit to eight to 10 hours to take the program and achieve a grade of at least 80 per cent to obtain certification.