By Stephen Montgomery
Light-emitting diodes (LEDs) are used today in a wide range of signs and professional displays, including dynamic building façades, large-format outdoor video screens, digital billboards, stadium scoreboards and other arena signage, smaller indoor retail displays, menu boards in restaurants, taxi-top screens, destination signs on mass-transit vehicles, channel letters, lightboxes, backlit liquid crystal displays (LCDs) and more.
In 2012, market research shows the worldwide volume (i.e. quantity) of packaged LEDs installed in signs and other professional displays, including both stationary and vehicle-based applications, reached 57 billion units. Consumption value is predicted to increase, albeit with rising quantity growth largely offset by declining average prices. Global market consumption is forecast to reach 143 billion packaged LEDs in 2018 (see Figure 1, pictured right).
The Americas—including North, Central and South America—and the Asia-Pacific (APAC) regions are currently near-even in market share, but the latter is forecast to expand at the fastest pace, nearly 23 per cent per year, and is thus expected to dominate the marketplace in 2018 (see Figure 2, pictured below at left). Europe, the Middle East and Africa (EMEA) held a much smaller share of global consumption value in 2013 than the other regions, with 19 per cent, but are expected to see faster growth than the Americas in the period leading up to 2018.
LEDs used in signage and professional displays include both high-brightness (HB) and standard-type component-level bulbs. HB LEDs are those rated at 30 lumens per watt (lm/W) and higher, while standard-type LEDs are rated for less than 30 lm/W.
In terms of consumption value, the HB LEDs are the projected leader, achieving 68 per cent of relative market share in 2013 and forecast to reach nearly $2.5 billion in 2018, followed by standard-type LEDs at $930 million (see Figure 3, pictured below at right).
Overall, the worldwide consumption of packaged LEDs in signage and professional displays was projected to reach $1.8 billion in 2013 and is forecast to reach $3.4 billion in 2018.
The following are just a few examples of how today's increasing volumes of LEDs are being used throughout the sign and display industry.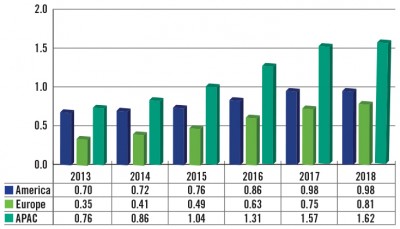 Channel letters, lightboxes and backlighting
There are many ways to illuminate a sign by day and night, including LEDs, neon, fluorescent and electroluminescent (EL) systems. There are also different techniques for lighting them, including backlighting, edge lighting, front lighting and halo lighting.
While neon and fluorescent lamps are still fairly commonly used today and can work effectively for many years, LEDs have proven a strong alternative for illuminating channel letters, lightboxes and other backlit signage applications. Indeed, they may signal the eventual demise of the older technologies.
Traditional aluminum lightboxes, which have been effective for decades and remain very common today, are as simple in design and construction as their name suggests, i.e. a box is illuminated from within. They are typically 203 mm (8 in.) thick, with a number of fluorescent tubes mounted inside to illuminate graphics applied to acrylic faces on one or both sides of the box.
When fabricated in this traditional manner, however, lightboxes consume excessive power. A typical large-format lightbox, for example, at 6 x 3 m (20 x 10 ft) in size, will require 45 58-W fluorescent tubes for effective illumination. If it is operated for only 12 hours a day, it will use approximately 12,000 kW of power per year, for an electricity bill in excess of $1,000 per year.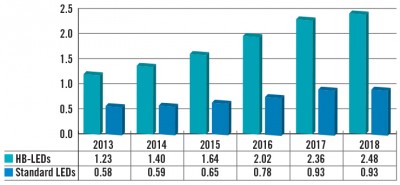 Maintenance is another problematic issue for these signs. With just one faulty fluorescent tube, the sign presents its graphics poorly—and with 45 or more tubes in a single sign, the likelihood of a fault at any given time is rather high. Flickering and/or broken tubes quickly represent a significant ongoing cost in terms of maintenance.
Indeed, it is common to see these signs showing dull patches or shadows across their surface. This flawed presentation will have a negative impact on consumers' perception of the brand. It simply does not look professional, nor is it bright enough to capture the same level of attention as at the sign's inception.