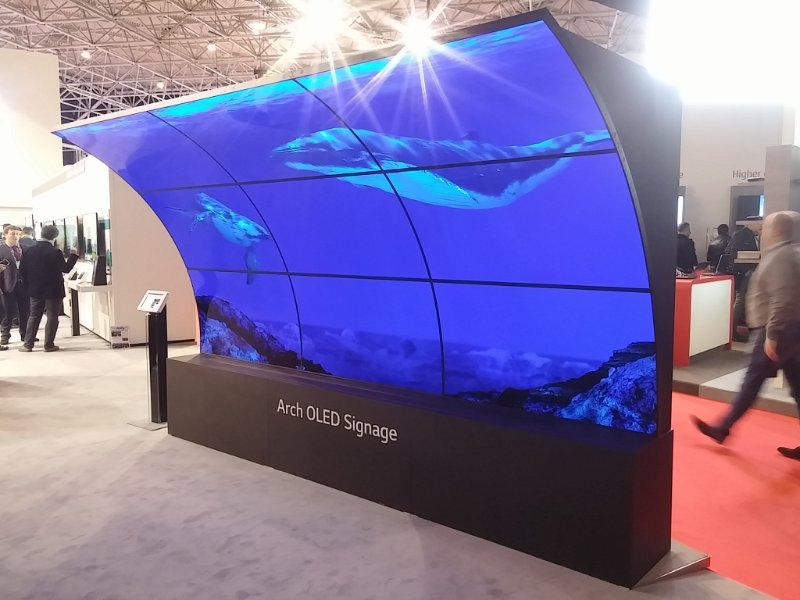 The worldwide organic light-emitting diode (OLED) market will roughly triple in size, from US$16.58 billion in 2016 to US$48.81 billion in 2023, according to new research from ReportsnReports.
The market's compound annual growth rate (CAGR) of 15.2 per cent is being driven by the rapid adoption of OLED displays for everything from large-scale digital signage (example pictured) to consumer televisions (TVs) to smartphones, positive user experiences (UXs) with OLED-based devices, advances in technology, investments in manufacturing facilities and government support for further lighting-industry research.
The major manufacturers in this market include Samsung Electronics, LG Display, Optronics, Universal Display, Acuity Brands, OLEDWorks, Boe Technology, Tianma Microelectronics and Konica Minolta Pioneer OLED. Most of these companies are headquartered in the Asia-Pacific (APAC) region, which held the largest share of the overall OLED market last year, but increased demand for display panels in North America is contributing to new worldwide shipping patterns.
The demand for flexible OLED panels, in particular, is expected to drive overall growth during the forecast period. While rigid panels accounted for the largest market share last year, they may soon be surpassed by flexible displays.