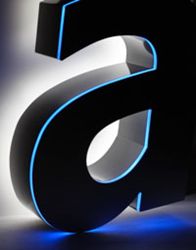 The International Sign Association's (ISA's) latest quarterly report shows all of its four defined sectors of the sign industry—i.e. large-format printed graphics, electric signs, dynamic digital signage and architectural signs—are growing above historical trends.
The report, which covers the second quarter (Q2) of 2016 and forecasts into 2017, was compiled by market research firms IHS and Vandiver and Associates and sponsored by the National Association of Sign Supply Distributors (NASSD). Its predictions of continued industry success are credited, in part, to a relatively stable outlook for the global economy and, more specifically, the North American market.
All four market segments remain 'above trend' in the report for 2017, which means they are expected to show growth well beyond historical patterns. This growth should remain through 2018, as well.
In printing, for example, the outlook for 2016 has been downgraded slightly for suppliers to the static sign industry, but expectations remain above past trends and should pick up in 2017 and remain solid in 2018.
In the electric and digital signage sectors, meanwhile, expectations have also been revised slightly lower, but show the historical trend being maintained for now before picking up significantly in 2017 and remaining strong in 2018.
Finally, the end market for architectural signage should continue to see very favourable conditions throughout the rest of 2016 before growth eventually decelerates in 2018 and demand returns to long-term trend conditions.
Economists will discuss the report's key findings today at 2 p.m. ET in a free ISA webinar. To learn more, visit www.signs.org/webinars.
The full report is free for members of ISA and affiliated organizations like the Sign Association of Canada (SAC). It can be accessed at www.signs.org/quarterlyreport.