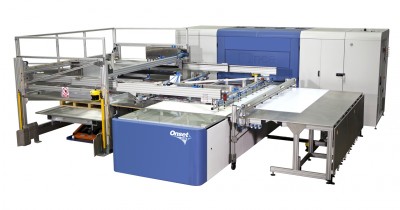 After a period of beta testing, Fujifilm North America installed Inca Digital's newest press, the Onset S40 wide-format ultraviolet-curing (UV-curing) six-colour inkjet printer, at its demonstration centre in Kansas City, Kan.
Printer manufacturer Epson set up a digital textile centre in Kyoto, Japan, to help support new business opportunities for high-quality inkjet printing on fabrics, including polyester, nylon, cotton, linen and wool. The centre includes a showroom and sales and customer support departments. Currently, digital printing only accounts for a small fraction of textile decoration work within Japan.
Fletcher-Terry, which manufactures substrate cutters, moved into a new 4,366-m2 (47,000-sf) facility in East Berlin, Conn. The building combines the company's sales, marketing, manufacturing and warehousing activities.
Ink, coating and adhesive developer Toyo Ink America relocated its headquarters to an approximately 10,126-m2 (109,000-sf) building in Wood Dale, Ill. The larger facility will support increased formulation of water-based, solvent-based and ultraviolet-curable (UV-curable) inks and coatings.
In December, large-format flexible digital display developer NanoLumens moved from its 1,301-m2 (14,000-sf) world headquarters in Norcross, Ga., into a new 2,973-m2 (32,000-sf) office centre in the same city, consolidating its administrative, sales, operations, research, design and assembly activities under one roof. The company, which was founded in Norcross in 2006, had reportedly doubled in size over the past two years.