By Peter Saunders
Earlier this year, National Geographic—while promoting one of its books, Food Journeys of a Lifetime: 500 Extraordinary Places to Eat Around the Globe—ranked Toronto's St. Lawrence Market as the best food market anywhere in the world. One of the reasons the publisher cited for this honour was how the historic facility, where "more than 120 retailers dispense everything from seafood to coffee," has been kept fresh and vibrant.
"Redeveloped between the 1970s and 1990s after long neglect, the area's mix of homes and businesses showcases urban regeneration," the magazine reported.
Coincidentally, St. Lawrence Market—which has operated continuously for more than 200 years, since opening in 1803—is now undergoing another phase of redevelopment. The North Building is slated to be replaced by a new, glass-filled facility in 2014. And in the meantime, Toronto-based Shikatani Lacroix Design (SLD) was recently commissioned to develop a cohesive wayfinding system for the South Building.
Market analysis
In late 2009, once SLD had won the job following a request for proposals (RFP), the design firm published a report on how wayfinding was taking place in St. Lawrence Market and how it could be improved.
"We approached the job with a complete analysis, then came back with our thoughts," says Sheryl Keller Ziesmann, SLD's design director for wayfinding.
 The report began by addressing poorly identified entranceways before progressing indoors, where directories and signs implemented at different times were scattershot and difficult to see, failing to provide a 'sense of arrival,' along with further navigation. New wayfinding signs would need to both fit into the environment and stand out enough to prove useful.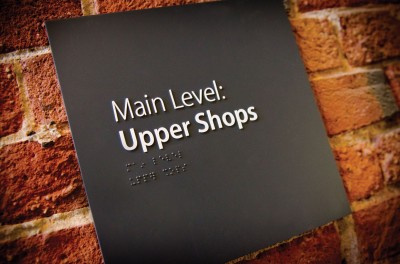 "You look at the whole experience from when someone arrives," says Ziesmann.
The South Building is a bustling meeting place for farmers, artisans and city dwellers. Most simply explore its many corners and levels without looking at signs, but some require more effective direction throughout the building. SLD's comprehensive system needed to meet Ontarians with Disabilities Act (ODA) accessibility standards, help visitors find restrooms and other amenities and provide better orientation in general.
"The intention was never to unify all of the market signage, but the wayfinding needed to be improved, because no one could find the stairs, washrooms and elevators," says Ziesmann. "While 95 per cent of the customers just come in and wander, others want to know immediately where something is, so identifying the amenities was one of our main priorities. Another was getting new visitors down to the shops on the lower level, which we achieved with large red arrows on posts near the stairs."
Complying with ODA was also a top priority.
"The city's implementing it rigorously in new buildings," Ziesmann says, "but it's hard to put accessibility signs in a big market where people will actually find and touch them."
To respond to these varying needs, SLD used a combination of maps and directories with braille dots and tactile characters, complemented by 7.6-m (25-ft) red 'street post' signs.
"We brought in people from the municipal government and checked in with the Canadian Institute for the Blind (CNIB)," says Ziesmann. "We used their colour contrast specifications for greys and whites and looked at Society for Environmental Graphic Design (SEGD) standards. They're great resources, as the signs have to work for everyone."