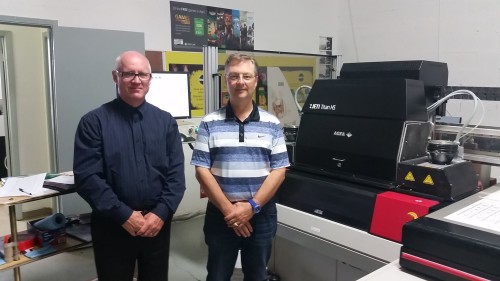 Namoji, a print service provider (PSP) in Concord, Ont., has expanded its large-format graphics department with the installation of a 3-m (9.8-ft) wide Jeti Titan HS flatbed printer, manufactured in nearby Mississauga, Ont., by Agfa Graphics.
Agfa account manager James Burghgraef (pictured, left) delivered the printer to Namoji business manager Dave Jenkins (right). The full-service PSP's digital and screenprinting operations also include finishing, plastic fabrication, cutting, vacuum forming and die-cutting.
Founded in 2014, Namoji represents the combined experience of three earlier companies: Seriscreen, which screenprinted point-of-purchase (POP) displays, Prodesign Solutions, which specialized in brand and product presentation materials; and Accutec, a steel rule die and cutting business.