Mixing digital and printed signage
22 November 2013
By Jeff Dowell
About 20 years ago, the convergence of tools like compact personal computers (PCs), electronic displays and networking technologies laid the foundation for what would become today's digital signage industry. These technologies offered a number of positive attributes at the time that have transitioned very well into the present, including flat screens, programmability and the attention-grabbing nature of digital signage as a medium. And as capabilities have advanced over the years, the negative aspects of the original tools—including hassles with lighting, colour drift and difficulty in servicing—have largely been addressed with updated technologies. Flat-panel displays (FPDs), especially, have evolved from plasma screens to liquid crystal displays (LCDs) and today's newest organic light-emitting diode (OLED) arrays. Digital signage can be found everywhere.
That said, it is now time to ask whether or not these technologies are being used to their greatest effect. It is not unusual today to see point-of-purchase (POP) merchandising dominated by FPDs—in some cases, all displaying the same message, and in other cases, all displaying different messages but placed close together and competing for shoppers' attention.
In the rush to use digital signage technology, the result can be information overload that desensitizes the viewer to the message. Retailers may also be leaving behind some of the more desirable benefits of printed graphics.
On the other hand, with an integrated approach, the in-store experience is conveyed jointly through digital displays and printed graphics, offering the benefits of both formats. Motion and animation are displayed where they will be most effective in capturing attention, while attractive and easy-to-read printed graphics are posted in key areas to deliver information.
By mixing printed and digital media in this way, sign shops can help their retail clients develop more innovative, customer-engaging in-store environments, presenting graphics in unique shapes and locations to differentiate themselves from their competition.
Ingredients for the mix
The following are just a few of the available technologies that may serve as the 'ingredients' for an integrated display environment:
LCDs
Typically, the most common FPDs in use today are LCDs that can showcase brilliant, high-definition (HD) graphics and video content and offer wide viewing angles. A relatively recent trend has been the addition of touch-screen capabilities, enabling the creation of interactive customer experiences.
While concerns about durability and maintenance used to come to mind when encouraging passersby to not only look at but also touch a digital sign, today's multi-touch-sensitive display technology is available with a rugged chassis and glass front surface to provide the necessary protection in demanding public environments.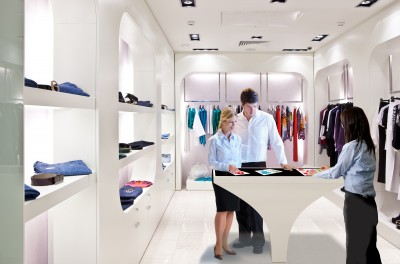 [3]
Projectors and film
By projecting content onto a film instead of using an LCD, retailers can still enjoy the benefits of capturing shoppers' attention with motion, but with greater flexibility, as the content need no longer be confined to the rectangular dimensions of an FPD. Indeed, rear-projection film can be applied to any transparent surface, from a store window to a display countertop, to turn it into a digital screen.
These self-adhesive films can be cut to any size and shape, allowing maximum design flexibility, and provide a 180-degree viewing angle for customers to see from various vantage points inside or outside a store.
Graphic films
Other 'traditional' graphic films can also continue to play an important role in POP environments, adding images to smooth or textured walls, windows or floors. These materials are still a cost-effective way to create visual impact and can also complement digital displays.
Engaging applications
When sign shops combine the aforementioned digital and 'static' components in the right way, they can create an engaging and memorable experience for shoppers through unique POP applications, including unexpected shapes and effects. The following are some examples of the possibilities.
Floor displays
Printed floor graphics are increasingly common in convenience stores and other retail environments, but they can be made even more eye-catching with the integration of digitally projected images onto specified zones of the floor. Shoppers are all the more likely to pay attention to a message that appears where they do not expect it.
Some floor projections also use gesture-based interaction to create a much more experiential display. As people move through the space, they can affect the projected content as though playing a game.
Wall displays
Similarly, walls can be decorated with both printed graphic films and projection films for digital content. This configuration may be used simply for atmospheric effect or, again, with gesture-based interaction.
A retail environment's interior walls are also an ideal place to install touch-screen displays that take users though a menu of options or products. Printed graphics can 'frame' these screens to help draw attention to them.
Pop-up displays
With a pop-up display, no stationary wall is necessary to support the vertical alignment of POP graphics with customers' line of sight. This is especially useful in vast showrooms with more windows than walls. Many automotive dealerships, for example, are integrating printed graphics and dynamic displays in pop-up configurations to promote add-on products, such as floor mats and upgraded tires and rims.
A pop-up display with a touch screen becomes an informational kiosk, allowing customers to browse the retailer's offerings at their own pace. This provides a support function for the in-store sales and service teams during peak customer traffic times. One customer can begin the sales process at the display while waiting for another customer to finish speaking with a store employee.
Another type of dynamic pop-up display is the 'virtual presenter,' created by projecting video footage of a salesperson or spokesperson onto an acrylic cut-out of his/her silhouette, with rear-projection film applied to the surface. Whether welcoming attendees to an event or reviewing a new product or service, virtual presenters tend to attract a crowd.
Window displays
Given their transparency, windows offer the opportunity to present particularly huge displays. The Bank of Montreal (BMO), for example, commissioned the world's largest 'living mural' several years ago for the ground-level windows of its head office in Toronto's First Canadian Place.
Installers first used traditional graphic film to wrap the building with a 6.7 x 6-m (22 x 20-ft) image showcasing BMO's sponsorship of the Toronto Football Club (FC), the city's major-league soccer team. Then, a 1.2 x 2.1-m (4 x 7-ft) 'gap' within the wrap was fitted with rear-projection film, allowing the bank to showcase video footage of Toronto FC games, TV ads and other related dynamic content.
In this way, what was previously just a window at the bank was transformed into a massive, active screen. BMO executives reported they were very happy with the response to the installation, noting pedestrians stopped on the street to take photos. The project was a strong demonstration of the vast possibilities and public impact of integrating both static and dynamic creative elements.
Strengths of sign and print shops
For traditional sign and print shop owners, an emphasis on new technology can seem quite intimidating. Alternatively, those who have worked in the sign industry for 20 years or more may feel it still does not pay to invest in digital signage, given how many other technologies have come and gone over time.
Such concerns aside, in today's market, the expertise of sign and print shops is now needed in the digital signage sector. Indeed, there are significant opportunities for shops that incorporate digital signage into their product lines—and several reasons they have their own advantages in the market.
For one thing, sign shops are in a unique position to leverage the knowledge, skills and customer base they have developed over the years in wide-format printing as they move into new territory.
For another, wide-format printing professionals already have a strong understanding of how to communicate with the public through signage—often, a better understanding than professionals in the digital signage business, who tend to have more expertise in technology than in communication. Indeed, the constraints of print have forced traditional sign shops to hone their communication skills, such that they can capture attention through a static medium, whereas many digital signage companies have relied on their medium as an attention-getter without developing a full understanding of what will make a dynamic display truly effective once someone is looking at it.
None of this is intended to suggest sign shops should abandon print, of course. As the aforementioned examples of integrated graphics have shown, print can play a major role in successful, innovative digital signage installations. So, a sign shop with expertise in both areas can add value for its customers, guiding them toward digital signage when appropriate.
These cases would include situations where displayed information needs to be changed frequently, such as menu boards in quick-service restaurants (QSRs) or rate boards in banks. By incorporating digital signage, these businesses can keep their displays as up-to-date as needed. A QSR, for example, may benefit from seamlessly transitioning between different menus for breakfast, lunch and dinner; this type of function for digital signage is referred to as 'dayparting.'
Digital signage can also allow a business with multilingual customer bases to display its messages in various languages. Another reason to change displayed information frequently is to engage customers while they are standing in line or sitting in a waiting area. Digital signage has been shown to reduce perceived wait times in these situations.
There are also commonalities between printed and digital signage that underscore how the same skill sets can be used. In each medium, for example, there is the need for system design, including the wiring, placement and servicing of a bright, eye-catching display. There is also the need for content creation, where sign and print shops can especially showcase their expertise.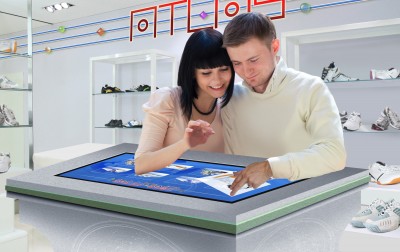 [5]Tools for making the leap
Beyond the new display technologies of the digital signage sector itself, the sign industry has benefited from many helpful electronic innovations.
In one example, scanning technologies have been developed to evaluate the visual impact of graphic designs, including both video and still images. This type of 'visual attention service' has been shown to accurately predict which parts of an image will capture a passerby's attention, allowing retailers to increase their return on investment (ROI) by maximizing the effectiveness of their POP displays.
Sign shops are adding insights from new tools like this to previous knowledge, so they can capitalize on the strengths of printed and digital signage and offer cutting-edge integrated offerings to their customers.
Of course, with the addition of any new tools or skills comes the need to invest in training and professional development, to ensure new offerings are delivered to customers successfully. Fortunately, all of the aforementioned technologies are becoming easier to use, less expensive and more intuitive over time. It is certainly feasible for a small print shop to start offering simple digital signage today and then work its way up the learning curve as in-house experience grows. There are also opportunities for sign shops to form new partnerships with digital signage experts, such that they can jointly provide systems to customers they might not have been able to serve on their own.
Today's digital signage technologies offer outstanding technical capabilities, but only when they are put in the hands of experienced communications professionals can they truly reach their potential. By integrating printed and digital signage, today's signmakers will be able to grow their business, better position their shops for the future and offer added value for their customers.
Jeff Dowell is the global business development manager for digital signage at 3M Commercial Graphics. For more information about combining printed and digital signage, visit www.3mgraphics.ca[6].
Endnotes:
[Image]: http://www.signmedia.ca/wp-content/uploads/2014/01/Mix-of-Print-and-Digital-to-Create-Environment.jpg
[Image]: http://www.signmedia.ca/wp-content/uploads/2014/01/Wine-Store-Multi-Touch.jpg
[Image]: http://www.signmedia.ca/wp-content/uploads/2014/01/3M-Multi-touch-in-Clothing-Store.jpg
[Image]: http://www.signmedia.ca/wp-content/uploads/2014/01/3M-Vikuiti-Unique-Shapes-3.jpg
[Image]: http://www.signmedia.ca/wp-content/uploads/2014/01/3M-Multi-touch-Shoe-Store.jpg
www.3mgraphics.ca: http://www.3mgraphics.ca
Source URL: https://www.signmedia.ca/mixing-digital-and-printed-signage/
---