Sign Media Canada's Signmaker of the Year Award recognizes commitment to excellence, superb customer service, environmental stewardship, as well as the uniqueness of your designs. Entries to this year's awards program came in from across the country with winners selected from the following regions: Atlantic Canada, Ontario, Quebec, the Prairies, and British Columbia.
The judges had to base their selections on criteria such as industry involvement, good business practices, and project features. In all, five winners were selected, with the entry earning the highest overall score earning the top-prize!
Now, Sign Media Canada proudly presents the national and regional winners in the 2018 Signmaker of the Year Awards. This year's competition attracted many high calibre company's, representing all corners of Canada's sign industry. 
Prairies and National winner
Speedpro Signs Grande Prairie, Grande Prairie, Alta.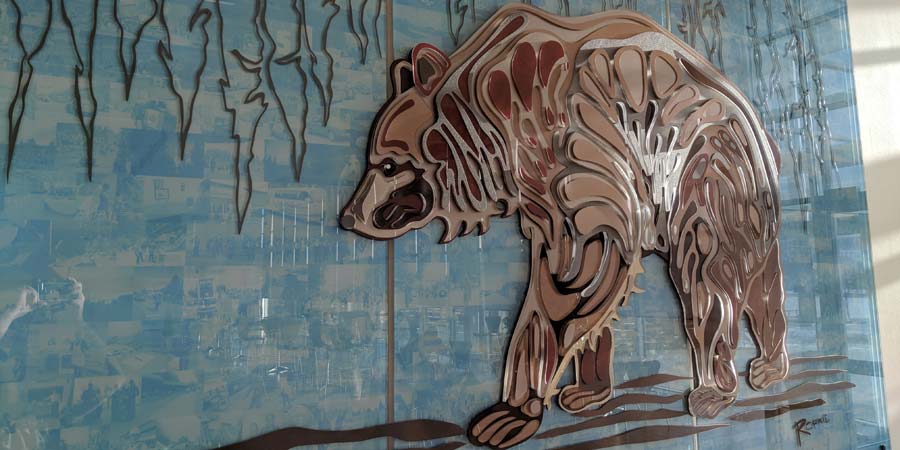 Speedpro Signs Grande Prairie is a multi-disciplined shop with a focus on small- to medium-sized businesses. The typical projects we work on combine marketing into the design, making sure to satisfy all of our client's requirements.
We tend to have higher standards than we need too, however, we are fortunate to have staff who take them just as seriously as we do. Our problem solving skills helps us to create unique solutions for our clients, but adding in the marketing knowledge means our suggestions have layers to them that our clients appreciate. We try to stay on the edge of technology, design, and product offerings but, at our core, we make really sticky things stick to other things.
With a background in fabrication and marketing, we are well-suited to this industry as all of our past experiences feed this unique business. We are known for this aspect of making things unique on a budget—most of the time, but impactful.
Atlantic Canada
Regional Winner: Mattatall Signs Ltd., Dartmouth, N.S.
Mattatall Signs is Atlantic Canada's leader in custom signage. Our in-house fabrication and installation capabilities allow us to complete projects from small and ornate to large and complex.
Mattatall recently incurred a change in ownership. We have a very strong second-generation taking over the business with a fresh outlook on the industry. We are involved not just in our business but also in the sign industry. We have a long history of membership in the World Sign Associates (WSA), International Sign Association (ISA), and the Sign Association of Canada (SAC-ACE). Our team is a very unique mixture of experience and youth—we employ a diverse workforce with varying skill sets to ensure our product is exactly what our client wants.
When it comes to in-house capabilities, we are unmatched in Atlantic Canada and very competitive nationwide. We have a full design team, art department, production, and installation crew.
Ontario
Regional Winner: Signature Sign & Image, Niagara Falls, Ont.
Signature Sign & Image has been a family-run business for 35 years. Initially a sign painting business, the company evolved alongside the industry. Jeff and Elaine Wallis, the husband and wife team, welcomed their son, Mark Wallis, into the business as part-owner and vice-president.
Later, Mark's fiancée, Emily Butko (graphic designer, International Sign Association [ISA] Elite 2018) and his sister Kaitlyn joined the company.
Over the years, Jeff and Elaine have accepted countless awards on
behalf of Signature Sign & Image for excellent design, unparalleled craftsmanship, contributions to the sign community, as well as their many generous contributions to the local community. The company's team is a diverse group with a wide-range of backgrounds, including manufacturing, design, accounting, and more. It is the team's efforts, experience, and unhindered spirit that have allowed the business to not only grow, but thrive in the industry. In the past year, the shop has expanded its services and equipment to include large-format printing, an Accu-Bend system for producing channel letters, an AXYZ routing table, an Akzo Nobel Paint system, as well as a cut work table (CWT). The small but mighty team of 16 has produced iconic and award-winning signs, including the new 'Welcome to Niagara Falls' sign, 'Big Top Attraction' signs, and many more.
Quebec
Regional Winner: Montreal Neon Signs, Laval, Que.
Since 1993, Montreal Neon Signs has been manufacturing, delivering, and installing quality signs while maintaining exceptional customer service. Our relationships with our customers are as strong as the signs we build. This is reflected in our reputation for innovative quality products, on-time delivery, and customer satisfaction.
We have grown substantially from our original 464.5-m2 (5000-sf) sign shop to our new 5110-m2 (55,000-sf) facility in Laval, Que., with offices in Ottawa and Toronto. We are also well placed to serve our American customers through our sister company, M Signage Solutions Sales and Service, with an office in Chicago, Ill.
As one of the fastest growing sign companies in North America, we strive to go above and beyond the expectations of our customers. Montreal Neon has been a family-run business for the past 25 years. In this time, the business has gone from a handful of employees, sometimes working out of hotel rooms and coffee shops, to our current state-of-the-art facility.
Somehow owners Linda Dupré & Carlo Paolucci have managed, even now with more than 100 employees, across four locations, to keep that sense of family and loyalty amongst their team.
British Columbia
Regional Winner: Imagination Corporation, Chilliwack, B.C.
Sawatzky's Imagination Corporation is a unique family company that specializes in the design and construction of one-of-a-kind signs and themed environments. We merge state-of-the-art tools with old world craftsmanship and a healthy dose of imagination to create absolute magic on every project we tackle. "Ordinary" simply does not count.
Our specialty is the design, fabrication, and installation of themed signs and features. We enjoy working with our client's teams to ensure that the quality of the project exceeds all expectations. Whether you are looking for a unique sign, an eye-catching storefront, or an entire theme park, we have the expertise and passion needed to put your venture over the top.
We are a family company. We operate in our backyard in a small town and yet do nothing but world-class work which we send out all over the world.
We love to hire young people with dreams and ambition. Our deal with them is simple: They help us to produce extremely creative, unique dimensional signs and features and in return we help them fulfil their dreams.