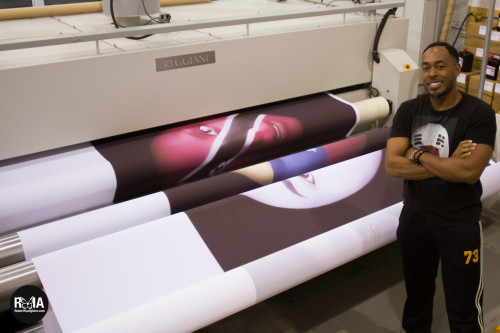 McRae Imaging in Mississauga, Ont., has purchased its second Reggiani ReNoir 340 press from Electronics for Imaging (EFI), significantly boosting its maximum output of digitally printed textile graphics.
After becoming the first company in North America to buy a Reggiani printer (pictured above with artist Robert Young), McRae was able to process approximately 600 m2 (6,500 sf) of fabric graphics per hour. This speed supported the fabrication of large-scale projects like Young's World Faces Collection (pictured below), an exhibit created for Toronto's 2015 Pan American (Pan Am) Games.
Now, with the addition of the second machine—the first installed anywhere in North America since EFI's acquisition of Reggiani in 2015—McRae has doubled its output to 1,200 m2 (13,000 sf) per hour.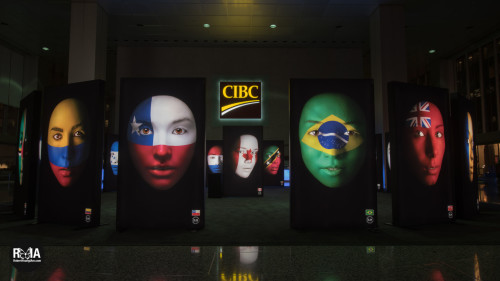 "Reggiani was originally an apparel company, but they applied their expertise to the graphics market," says Bob Murray, co-owner and CEO of McRae. "Growth in the display signage market for fabrics has been exponential and the future is really, really bright."