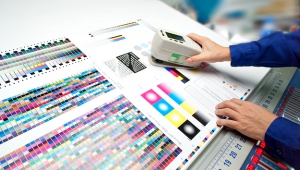 By Dorin Pitigoi
Industrial printing is a dynamic and potentially rich area that opens new opportunities for print service providers (PSPs) to extend their range of applications, but it is important for a minimum set of parameters to define the visual characteristics and technical properties of their products.
Quality control is pivotal for an extensive and diverse range of applications, from textile graphics and interior décor to packaging, where colour reproduction is particularly important for branded materials. A single advertising campaign may contain both analogue and digitally printed items, produced on various substrates, across which the client's brand colours will need to be accurately matched.
Matching conventional spot colour processes with a cyan, magenta, yellow and key/black (CMYK) digital process requires dedicated colour management tools and settings. To ensure quality and process control throughout the industrial graphic production environment, objective colour standards need to be implemented, using specifications that have been tested and agreed upon for commercial printing, large-format graphics production and other processes. The Fogra Graphic Technology Research Association's ProcessStandard Digital (PSD), for example, was introduced several years ago to answer the growing need for process stability and quality assurance across both small- and large-format digital printing.
The number of PSPs interested in colour management is gradually increasing, but not at the pace and level required by an extremely demanding and competitive industry. Many PSPs still underestimate the importance of allocating time and financial resources to test and optimize media in conjunction with each specific device. They don't realize perfectly tuned colour management will reduce ink consumption, improve quality and raise productivity, thanks to increased speed and minimized remakes, as accurate colour reproduction reduces the chance of errors.
Dorin Pitigoi is a colour and standardization expert. He is speaking at this week's Federation of European Screen Printers Associations (FESPA) conference in Cologne, Germany, about specifications for large-format printing and about colour challenges when printing signage on non-paper substrates.