By Peter Saunders
During the 2012 Summer Olympic and Paralympic Games in London, England, visitors arriving at Stratford Station—the main public transportation hub for both events—were greeted with giant graphics wrapped around the entire facility. The wrap was created with Contra Vision North America's perforated window film, which enabled the images to be visible in daylight and darkness alike.
Showcasing Olympic sports, the wrap was an ad for Lloyds TSB, a U.K. retail bank and 'tier one' sponsor for the games, and was arranged through CBS Outdoor. VGL printed the colourful graphics on Backlite Performance translucent white film, using a Nur Fresco solvent inkjet printer, and installed them along the station's inwardly sloping glazing.
Both installation and visual appearance helped inform the choice of material. Some window films are specified only for vertical surfaces, for example, and would be 'burned through' by the station's indoor ambient illumination, swamping the graphics with light.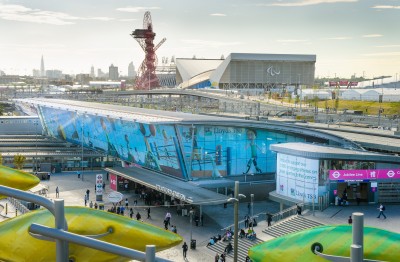 The Backlite film, by comparison, allowed visitors in the station to see through the windows, avoiding the claustrophobic effect solid window graphics could have caused. A subtle 'ghost' of the printed images was visible from indoors, overlaying but not obscuring the surrounding Olympic activities. Meanwhile, the wrap's outdoor visibility was maintained for spectators returning to the station at dusk or later.
The graphics were also easily removable after the games.
"We are delighted our product was able to add to the visual impact around the Olympic Park," says Roland Hill, president of Contra Vision North America. "This demonstration has already led to interest in retail, bus shelter and other applications."