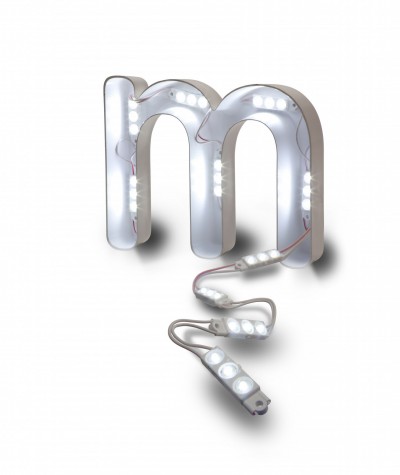 General Electric's (GE's) Lighting Solutions division has introduced Tetra light-emitting diode (LED) systems that use fewer modules than previous models for illuminating channel letters.
The new product line includes: MiniMax systems for small channel letters (example pictured) that deliver 81 lm/W, compared to 57 lm/W before; Max systems for medium-size channel letters, including high-output versions 92 per cent brighter than previous generations; and PowerMax systems for large channel letters, which use OptiLens technology to increase stroke spacing by 50 per cent in a 102-mm (4-in.) deep, 0.9-m (36-in.) or taller letter.
The LED modules have been designed to provide greater lighting uniformity with fewer components, translating into easier installation and less need for repairs and replacements in the long term.
Contact: GE, www.ge.com