Illumination: LEDs in signage and professional displays
by all | 5 January 2013 8:30 am
By Stephen Montgomery
Light-emitting diodes (LEDs) are being used in an ever-broader array of illuminated signs and professional display applications today—and this market trend is forecast to continue in the future. LEDs are used in stationary signs, vehicle-mounted displays (e.g. in taxis and mass-transit systems), outdoor video screens, building façades, digital billboards, stadium scoreboards, small indoor retail displays, channel letters, lightboxes, backlit digital signage and food-service displays in restaurants and supermarkets. The list continues to grow.
In fact, based on evaluations by engineers and product planners, early ideas and concepts already exist that will only become actual products about three to seven years from now. Once confidence exists that these ideas and concepts will indeed yield new products, their use can be anticipated and forecast as part of the overall LED market.
Looking several years ahead, of course, many future products may not even be at the idea stage. So, when predicting growth in the demand for innovative signage, based on LEDs with improved capabilities and capacities, the forecast is most likely to change over time, both as innovative concepts enter the market and as what were once considered 'sure bet' products flop.
In any case, the automation of the manufacturing, assembling and testing of solid-state lighting products has enabled the mass production of LEDs. As a result of production efficiencies, yield improvements aided by quality controls, greater market and technology competition and improvements in sales, marketing and distribution, among other factors, the average prices of LEDs will be driven lower over the next few years.
Further, while both LED technology and processing are still improving, it is common knowledge today that signmakers and other users can save on energy costs substantially by choosing to build LED-based signs or by upgrading existing neon or incandescent signs with LED retrofits.
Being energy-efficient, it is worth mentioning, LEDs help reduce carbon dioxide (CO2) emissions associated with the consumption of electricity. This is a significant concern in Canada, which produces only two per cent of the world's energy-related CO2 emissions, but is one of the highest emitters on a per capita basis.
Packaged growth
The 'food chain' of LEDs may be expressed through the following four levels:
The chip or die.
The packaged LED (i.e. component-level bulb)
The LED array or module.
The LED-based sign or display system.
Among packaged LEDs, there are standard types versus high-brightness (HB) LEDs used in signage and professional displays. Standard LEDs are rated at less than 30 lumens per watt (lm/W), while HB LEDs include all component-level bulbs rated at 30 lm/W or higher. Some of the latter are categorized as ultra-high-brightness (UHB) LEDs, rated higher than 70 lm/W.
The worldwide consumption of packaged LEDs for use in signage and professional displays was expected to reach approximately $1.68 billion in 2012 (see Figure 1), up from $1.5 billion in 2010 and $1.63 billion in 2011 (this data is not cumulative; it refers to use within each particular calendar year). This level of consumption is forecast to almost double in 2017, reaching nearly $3.3 billion.
(While LEDs are now used to backlight consumer-level liquid crystal displays (LCDs) for computers and TVs, the LED-based screens used exclusively for professional purposes are separately quantified for the signage and professional display category.)
As suggested, the rising quantity growth will largely be offset by declining average prices. Standard LEDs are the market share leader in terms of volume (quantity), making up more than 95 per cent of the total in 2012. In terms of value, on the other hand, HB LEDs held a relative market share of nearly 67 per cent in 2012.
On a regional market basis, the Americas—including Canada and the rest of North America, Central America and South America—led in consumption in 2012 with a value of $668 million, even in market share to the Asia Pacific Region. The Americas are forecast to expand to $975 million in 2017, while the Asia Pacific Region is expected to grow at a faster pace.
Europe, the Middle East and Africa (EMEA) held more than 20 per cent share of the global consumption value in 2012, but this is forecast to see only relatively flat growth for the next few years.
A world of applications
The following are just a few examples of how today's increasing numbers of LEDs are being used for new creative and/or technical goals.
LED panels
There are two main types of LED panels: conventional, using discrete LEDs; and surface-mounted device (SMD) panels.
In the digital signage sector, most outdoor screens and some indoor screens are built around discrete LEDs, also known as individually mounted LEDs.  A cluster of red, green, and blue (RGB) LEDs is used to form each full-colour pixel of the screen, usually square in shape.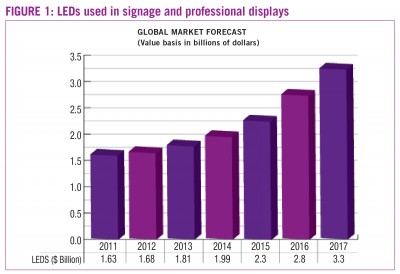 [3]
These colourful, stable, long-life LED components can display very clear images and text, without any jitter, ghosting and distortion. They enable wide-angle visibility, with no blind spots. They experience a low failure rate and are relatively easy to maintain.
With Video Graphics Array (VGA) synchronization technology, an LED-based display can provide real-time text, graphics and image information. It can connect to video signals, Flash-based content and two-dimensional (2-D) and three-dimensional (3-D) animation.
These types of displays are widely used in transit stations, airports, banks, stock exchanges, stadiums, post offices and hotels—basically, everywhere.
Ultra-high-contrast billboards
Barco's LiveDots division recently partnered with the Barnycz Group, a design firm, to create a three-panel LED-based billboard for Vornado Realty Trust at Manhattan's Penn Plaza, the busiest intersection in New York, N.Y., which serves as a thoroughfare for more than 600,000 daily commuters. The 315.9-m2 (3,400-sf) display represents an upgrade of the building's existing signage, to boost opportunities for advertising revenue.
As one of the largest owners and managers of commercial real estate in the U.S., Vornado wanted to achieve the proper balance of visual esthetics and economics in generating a high return on investment (ROI). The Barnycz Group and Barco both had extensive experience in high-impact outdoor displays, having worked together on an LED display for American Eagle Outfitters at nearby Times Square.
The Barnycz Group consulted with Vornado executives with regard to the specific location, design and construction of the billboard before developing the content and playback technology, including the 'head-end' system that allows the three panels to share the same content or be run independently.
"Vornado wanted to make a big splash in an already crowded outdoor advertising market," says Danny Barnycz, the group's founder and president.
Installed directly across from bustling Penn Station, the new billboard could be called an LED landmark. It combines the high-resolution panels into one 'canvas' for advertisers to use creatively when launching new campaigns. The three panels can be leased as one face by a single client or can each be contracted separately by different companies.
The billboard comprises 532 tiles, with specially designed corners and front-service systems. The tiles provide more than three million pixels to deliver high-resolution images, driven by Barco's DX-700 image processor and network-based LiveDots remote management software (RMS). Proprietary sensor technology enables the remote management of the entire display.
The tiles use 10.2-mm (0.4-in.) pixel-pitch LEDs. These are not only bright, but also reportedly 20 per cent higher-contrast than typical LEDs, as it was important for the billboard's images to be seen clearly both at nighttime and in direct sunlight, while still consuming 20 per cent less power than other display technologies.
"These high-resolution LEDs are extremely vivid, clear and crisp," says Barnycz. "For high-profile retailers who invest millions in reinforcing their brand equity, colour accuracy and uniformity are critically important, especially for today's sophisticated, interactive campaigns. And in a city that never sleeps, the system would need to operate reliably 24-7, in all types of weather conditions."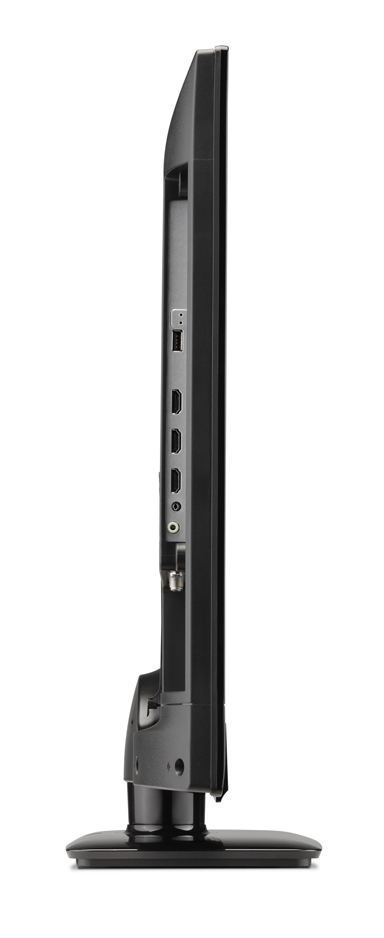 [5]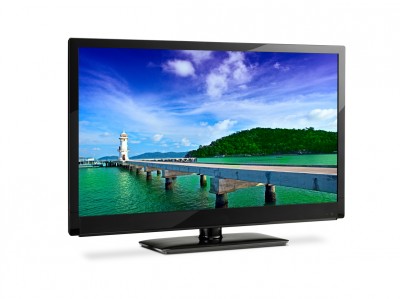 [6]
LED-backlit displays
It is becoming common for display manufacturers to incorporate LEDs into the commercial-grade edgelit and backlit LCDs used for digital out-of-home (DOOH) advertising and other dynamic signage applications in educational facilities, retail stores, quick-service restaurants (QSRs), fitness centres, health-care facilities and other locations.
Using LEDs allows these LCDs to be made thinner and lighter, as well as easier to install and maintain. This reduces the costs of large screens associated with shipping, warehouse storage, installation and ongoing service.
Additionally, LED backlighting consumes up to 56 per cent less power than traditional LCD backlighting, resulting in further reductions to the total cost of ownership (TCO).
"In addition to reducing TCO for edgelit and backlit LCDs, LEDs make them an eco-friendlier choice," says Rachel Karnani, large-screen product manager for NEC Display Solutions. "The technology eliminates the use of hazardous materials, such as mercury, in the displays. We are confident users will be happy with the impact of these products on both their wallets and the environment."
Stephen Montgomery is president of international business expansion for ElectroniCast Consultants, which specializes in market trend forecasting, strategic planning and consulting for LED illumination and communications networks for companies, trade associations, government agencies and the financial community. For more information, visit www.electronicast.com[7].
Endnotes:
[Image]: http://www.signmedia.ca/wp-content/uploads/2014/02/photocourtesyHSL.jpg
[Image]: http://www.signmedia.ca/wp-content/uploads/2014/02/Vornado-NYC.jpg
[Image]: http://www.signmedia.ca/wp-content/uploads/2014/02/SM_Jan_BG13_HR-51fig1.jpg
[Image]: http://www.signmedia.ca/wp-content/uploads/2014/02/E323_Rt_RGB_1502.jpg
[Image]: http://www.signmedia.ca/wp-content/uploads/2014/02/E463_Rt_Profle_RGB_150.jpg
[Image]: http://www.signmedia.ca/wp-content/uploads/2014/02/E463_Rt_RGB_1502.jpg
www.electronicast.com: http://www.electronicast.com
Source URL: https://www.signmedia.ca/leds-in-signage-and-professional-displays/
---