Last Impression: Priceless interactivity
23 May 2014
By Peter Saunders
While interactive digital signage is generally a high-profile, capital-intensive and potentially daunting undertaking for most organizations, efficiencies can be found by integrating it with other information and communications technology (ICT) systems. At Toronto's Air Canada Centre (ACC), for example, MasterCard recently introduced a new digital signage deployment at the same time as it launched contactless 'tap and go' payment technology at the arena's food and beverage concession stands.
The financial services corporation, known for its credit cards and MasterPass accounts, has a longstanding exclusive sponsorship agreement with Maple Leaf Sports & Entertainment (MLSE), which owns and operates the ACC, the Toronto Maple Leafs hockey team, the Toronto Raptors basketball team and the Toronto Football Club (FC) soccer team. This partnership paved the way for the new 'Priceless Toronto Zone,' located outside the ACC's Gate 1.
The first-of-its-kind installation is equipped with two large flex screens, an eight-panel video wall and a 1.7-m (65-in.) touch screen that allow fans to interact with content and purchase items through their mobile phones. Limited-edition bobblehead figures, for example, are available for sale in the zone exclusively to Canadian MasterCard and MasterPass account holders, with all net proceeds donated to the MLSE Foundation, which helps build facilities and fund sports and recreation programs for youths.
"By leveraging MasterCard's payment technologies, patrons will be able to engage in an experience like no other," said Vince Bozzo, the ACC's general manager (GM), at the zone's launch on March 19.
Additionally, the digital signage deployment will occasionally surprise cardholders with free merchandise and tickets, tying in with MasterCard's broader 'Priceless Surprises' campaign. On March 8, before the zone was launched, a cardholder sitting in MLSE's nearby Real Sports Bar & Grill was invited with his father and brothers to watch the Leafs' overtime win against the Philadelphia Flyers in a private suite with Hockey Hall of Famer and former Leaf Doug Gilmour.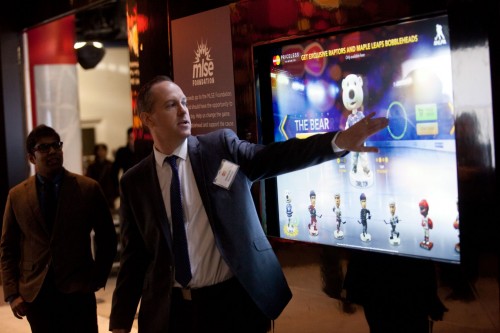 [2]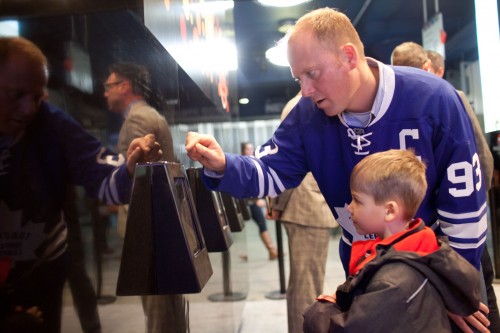 [3]
Endnotes:
[Image]: http://www.signmedia.ca/wp-content/uploads/2014/05/Priceless-Toronto-Zone.jpg
[Image]: http://www.signmedia.ca/wp-content/uploads/2014/05/20140319_1399.jpg
[Image]: http://www.signmedia.ca/wp-content/uploads/2014/05/20140319_1900.jpg
Source URL: https://www.signmedia.ca/last-impression-priceless-interactivity/
---