Knight Signs: Canada's 2019 Sign Company of the Year
by | 5 February 2020 12:00 pm
By Sonia Yooshing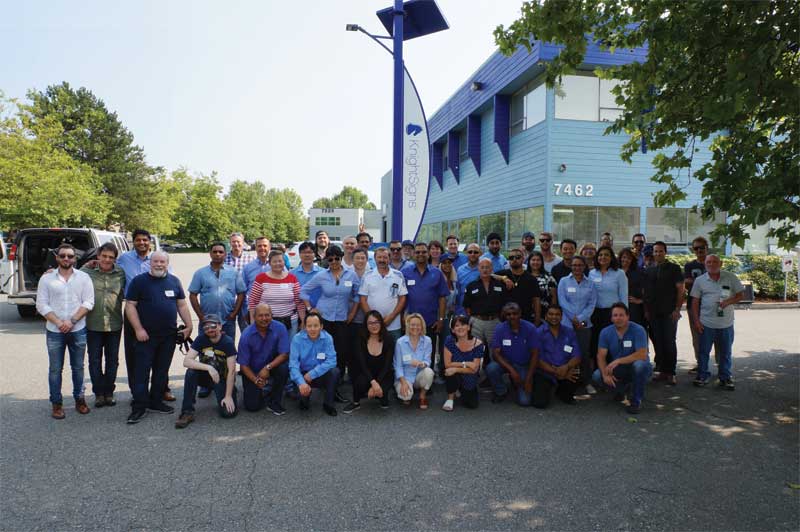 [1]
Knight Signs has designed, produced, and delivered signage solutions for clients in every industry and public sector since the company first opened its doors for business in 1968. And today, more than 50 years later, this Delta, B.C.-based company has emerged as an industry leader, serving retail, hospitality, commercial, construction, and institutional clients across Canada and the United States.
It comes as no surprise then that a company as driven and dedicated to exceed its clients' expectations was awarded the Sign Company of the Year (SCOTY) at the 2019 Best of Canada's Sign Industry Awards (BOCSIes).
Sign Media Canada recently spoke with Steve Mander, president and chief operating officer (COO) at Knight Signs, to learn more about the company's signmaking process, recent undertakings, and future plans for the business.
Sign Media Canada (SMC): How large is the facility today?
Steve Mander (SM): Knight Signs started out as a local sign shop nearly five decades ago. One of our first projects involved creating a new sign for Mother Hubbard's bakery on West Broadway in Vancouver. Ever since, the company has made great strides, handcrafting exterior, interior, and custom architectural signage for clients across industries.
Today, we have a 6038-m2 (65,000-sf) state-of-the-art manufacturing facility with 90 employees working in the production and installation departments across the company's offices in B.C., Alberta, and Ontario.
SMC: What makes your company unique?
SM: Our people, our projects, our vision, and values.
Knight Signs offers expertise in providing solutions to complex custom signage requirements and services. Our experience and collaborative approach allow us to deliver to our clients' unique sign manufacturing and installation needs. Our motto is to build a trusting partnership with our customers that continues for many years. 
We recognize and appreciate the dedication of our employees and treat everyone with respect. We encourage our employees to follow their passion for the signmaking business and achieve excellence in what they do. As a company, we take responsibility for our actions and believe in being a 'good corporate citizen.'
SMC: What type of signage does your shop primarily make?
SM: We work on a variety of projects including custom architectural signs, channel letters, free-standing pylon and monument signs, as well as neon signs. Our company has completed some of the largest wayfinding projects in Canada. Our clients include municipalities, large corporate companies, institutions, airports, transit, and sea transportation authorities. It does not matter what the size or scope of the project is, our multi-disciplinary team can take on any project and deliver astounding results.
SMC: What type of work have you been handling recently?
SM: In British Columbia, Knight Signs is continually working on the Vancouver International Airport (YVR) expansion and wayfinding project. We are also fabricating wayfinding elements for TransLink (SkyTrain, RapidBus, and SeaBus)—Metro Vancouver's transportation network. The knowledge and experience we have acquired over the years while working on these projects has definitely positioned us as sign experts.
We recently rolled out a rebrand for a financial institution at 30 locations. Further, we finished a bus rapid transit (BRT) wayfinding system in Alberta. In Ontario, we undertook a sign installation project for a science centre and a wayfinding assignment for a hospital. These are in addition to the numerous other sign projects we are currently working on across the country.
SMC: How much of the signmaking process is handled in-house? What equipment do you currently use to complete your projects?
SM: Knight Signs is a true end-to-end fabricator for interior and exterior signage solutions.
We manufacture 85 to 90 per cent of our signs in-house; only specialized services are outsourced.
Our manufacturing facility features an in-house neon plant, an automated routing station, a computerized press brake, computer-cutting plotters, a pattern-making plotter, and a computer paint-matching system. We also have two paint booths, measuring 3- x 3.7- x 2.7-m (10- x 12- x 9-ft) and 3- x 10.4- x 2.7-m (10- x 34- x 9-ft) respectively, a metal fabrication shop complete with two 10-tonne overhead cranes, an electrical assembly and testing line, a 1300-m2 (14,000-sf) panel assembly area, photopolymer and laser printers, a channel-letters assembly station, a Rollsroller flatbed applicator, and a SwissQ ultraviolet (UV) light-emitting diode (LED) printer, which is the most recent addition to our equipment line.
SMC: What does your planning and design process involve?
SM: Each project begins with a detailed plan. We start with client meetings, site surveys, and an analysis of local zoning, permitting, and municipal guidelines. This is followed by a thorough review of organizational design standards with recommendations on creative and technical design, as well as guidelines and specifications for materials, manufacturing, and installation.
A dedicated project manager leads a team of professionals on every assignment. The project is carefully analyzed, and a plan is developed in collaboration with the client.
We also provide additional services such as site surveys, permits and zoning approvals, graphics standards, quality control of materials and manufacturing, supervision and installation, and post-project evaluation.
Next, we brainstorm new concepts and ideas, manage rigorous brand and corporate identity standards, implement rebranding programs, and solve unique site challenges. On the creative side, our designers immerse themselves in developing impactful signs, which we believe will not only inspire, but also deliver results for every application.
Our in-house technical and computer-aided design (CAD) drafting team creates specifications for a variety of custom signage projects.
The final step is installation, and I am proud to say Knight Signs has successfully handled multiple challenging installations—from skyscraper rooftops to busy airports, hospitals, transit stations, restaurants, shopping centres, and remote outdoor locations. Our staff uses the latest technology and equipment to manage the surprises that come with every installation.
SMC: How is technology changing your business?
SM: We are a technology-driven society, and Knight Signs is always looking to adapt new technologies and remain ahead of the times. Our research and development activities aim to provide customers with better and innovative products, materials, and processes. We are actively working on integrating interactive digital advertising solutions like LED signs and lighting into our range of products.
We continue to opt for sustainable business practices while keeping abreast of product development in our industry, so we can provide customers with recommendations that help them reduce their carbon footprint. 
SMC: What is the key to staying successful in this industry?
SM: Our strong team of sign professionals, growth strategies, continuous efforts toward improvement, and above all aiming for the highest standards of excellence in our business practices enable us to stay on top of the game.
SMC: What are the future plans for your business?
SM: Knight Signs believes in providing its clients with unique turnkey solutions, and we will continue to do so. We plan to grow organically and expand and become the go-to signage solutions provider in North America.
Endnotes:
[Image]: https://www.signmedia.ca/wp-content/uploads/2020/02/DSC06311.jpg
[Image]: https://www.signmedia.ca/wp-content/uploads/2020/02/Canada-Place.jpg
[Image]: https://www.signmedia.ca/wp-content/uploads/2020/02/BMO-Field-GE-Appliance.jpg
[Image]: https://www.signmedia.ca/wp-content/uploads/2020/02/Empress-Hotel_Victoria.jpg
[Image]: https://www.signmedia.ca/wp-content/uploads/2020/02/UBC-Robson-Square.jpg
Source URL: https://www.signmedia.ca/knight-signs-canadas-2019-sign-company-of-the-year/
---