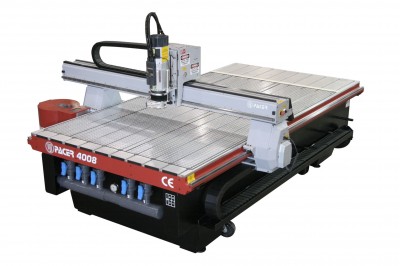 Axyz International, based in Burlington, Ont., has launched its latest Pacer series of computer numerical control (CNC) routers for cutting materials commonly used in woodworking and signmaking.
The machines are available in three sizes to handle popular sheet formats: 1.5 x 2.3 m (60 x 90 in.), 1.5 x 3 m (60 x 120 in.) and 2 x 3 m (82 x 120 in.). Each is built with a heavy-duty solid steel base and gantry, with a substrate clearance of 152 mm (6 in.), expandable up to 457 mm (18 in.).
A helical rack and pinion drive system features direct-drive servomotors and ball screw control on the Z-axis, for smooth, backlash-free motion. The machine controller offers Ethernet connectivity and 4 GB of on-board memory. Options include a seven- or 27-station automatic tool change system, twin or triple cutting heads, a camera registration system and a misting unit.
Contact: Axyz International, www.axyz.com